news
Goose management plan welcomed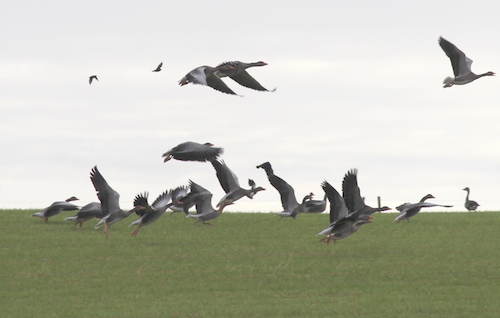 Following news that Scottish Natural Heritage will issue a new licence for greylag goose control in the county, Orkney MSP Liam McArthur has said he welcomes the new agreement.
"It is clear that the growing numbers of resident greylag geese in Orkney pose a real problem in terms of their impact on crops, land and potentially even other bird populations," he said.
"That is why there has been so much concern over the ending of the adaptive goose management scheme."
Over recent weeks, Mr McArthur says he has been in discussion with SNH, NFUS, RSPB and Scottish Ministers about this issue and the need to find a solution.
"I am pleased, therefore, that agreement has now been reached that will allow shooting to take place, under certain conditions, throughout the year," he continued.
"As importantly, this agreement also opens up scope for further discussions.
"All have played a part in getting to this point, but I would like to thank SNH in particular for their efforts in putting in place these arrangements.  Hopefully this can now pave the way to a longer term, sustainable solution to what has been a long-running saga."
The Orkney Native Wildlife project have also responded to the news.
A spokeswoman said: "The Orkney Native Wildlife Project is acutely aware of the impact grazing geese have on Orkney agriculture and understands why the local farming community sought to get support for dealing with this before supporting the project with land access permission.
"The project has no remit to deal with geese directly and the generous grant-funding by EU Life and Heritage Lottery Fund is specifically in recognition of the devastating impact stoats, left unchecked, will have on Orkney's iconic native wildlife, our economy and our communities.
"Following the announcement from Scottish Natural Heritage today and now that Orkney farmers have a collaborative forum to progress meaningful geese management, we trust this will encourage them to help us acquire the critical land access we need. We are looking forward to partnering with them so that together we can ensure the future of our native wildlife for the benefit of Orcadian environment and communities."
Orkney Native Wildlife project is happy for anyone with comments or concerns to get in contact by phoning 01856 881451. To keep up-to-date with the project, you can follow the group's Facebook page.