sport
McAllister grabs silver to get Orkney off the mark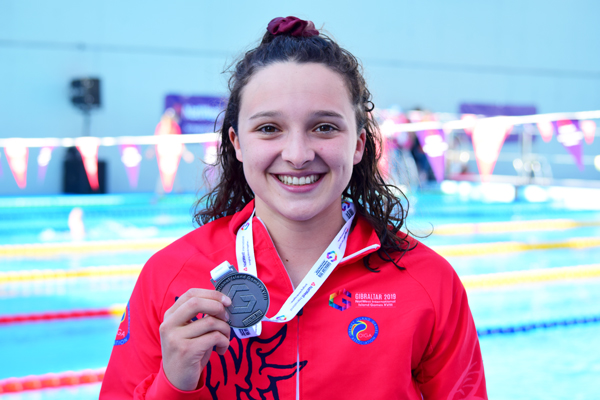 Mia McAllister gained Orkney's first medal of the International Island Games with an outstanding swim in the 50-metre butterfly.
Believed to be Orkney's first Island Games medal in the pool since 1995, McAllister pulled out all the stops to seal silver, finishing in 27.89 seconds ahead of Shetland's Emmie Hutchison.
Isle of Man Olivia Marshall won the gold.
The success sent Orkney fans into delirium on the poolside and gets Orkney off the mark in Gibraltar.
Angus Blance also swam in the 50-metre breaststroke final, finishing fifth in a new Orkney record of 30.24.
Tegan Spence set a new PB time of 59.01 in a fifth-place finish in the 400-metres.
Both the county's men's and women's 4 x 100-metre relay teams secured berths in the Friday's finals.
Squash pairing Andrew Reid and Finlay Scott fell to defeat as third seeds Jersey proved too strong.
Mixed pairing Barbara Balcombe and Scott also narrowly lost to a pairing from Bermuda as did Balcombe and Jane Hill.
In badminton, Rebecca Reid will play Jessica Li from the Isle of Man after navigating her way through to the last 16 of the women's singles.
She won two very close matches against a Greenland opponent and a Bermudan.
Emma Work, Joanne Pottinger and Alison Shearer lost in the opening round, as did Andrew Reid, Tommy Ballantine and Matthew Reid.
Sam Rendall progressed however lost to Dean Guthrie from Shetland in the second round.
Pottinger and Work also lost out to a Shetland pairing in the doubles while Reid and Shearer were knocked out by a strong Greenland pairing.
In the men's doubles, Eion Ballantine and Sam Rendall will play an Isle of Man pairing in round 16 after winning against a Western Isles pair.
Andrew Reid and Matthew Reid fell to defeat against a Greenland duo.
Torquil Clyde also finished 40th in the men's time trial — a great result for the 52-year-old considering the brutal hill climb involved.