news
Managing director speaks out as Pentland Ferries appeal subsidy challenge outcome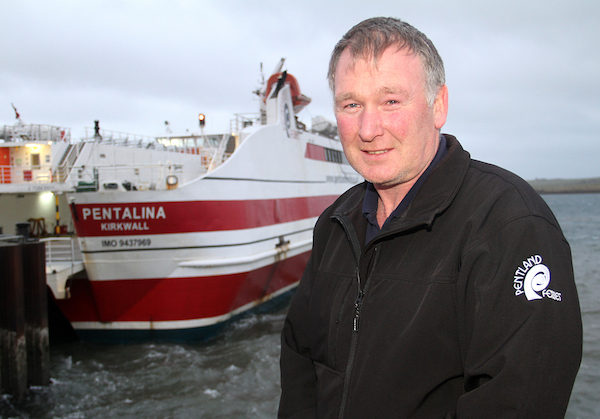 Pentland Ferries has appealed a recent court decision which ruled in favour of the Scottish Government's subsidies for the forthcoming Northern Isles ferry services contract.
The contract for routes between mainland Orkney and the Scottish Mainland is worth an estimated £370 million for the next eight years.
Crucially in this case, this includes the Stromness to Scrabster route, with Pentland Ferries running an unsubsidised rival service between St Margaret's Hope and Gills Bay.
Managing director of the family-owned company, Andrew Banks, voiced his disappointment at the original outcome made last month and believed appealing was the only option open to the company.
He added that, while they were well aware that a subsidy existed when they introduced their service in 2001, the level of funding has and continues to rise dramatically.
Mr Banks said: "The overall contract awarded in 2012 during the last tender round was for £223m, some £147m of a difference to what is being proposed this time.
"During that same period we have committed to more daily sailings than NorthLink and offer a faster journey time — we are operating an equivalent service but at no cost to the public purse.
"We have made a significant investment in the development and growth of our business including the purchase of our new ship, all funded by the re-investment of our own profits.
"Yet despite the additional capacity we have brought to transporting people to and from Orkney, our service and our business is constantly threatened by a state funded competitor who benefits from, what often feels like, a bottomless pot of money all at the expense of the tax payer.
"As I have said before we are not asking for the Stromness to Scrabster route to be abandoned, nor are we requesting any public funding for ourselves.
"We are simply trying to ensure fairness in Scottish Government's funding of NorthLink which affects the viability of our own wholly unsubsidised, family run business. We are challenging the extent of the base-level subsidy provided to support the NorthLink Scrabster-Stromness route, not the existence of the route itself."
The recent court decision is unrelated to the company's legal challenge on the legality of Road Equivalent Tariff (RET) which would see fares being reduced.
Pentland Ferries say they last heard from the Scottish Government in June 2018 with the company unwilling to sign up to a deal which they say could jeopardise their business.
Mr Banks continued: "A key factor in our commissioning the new ship was in preparation for additional capacity that may be required once RET was in place but we have heard nothing further from Scottish Government on this since last summer.
"We are equally disappointed that the priority of the Scottish Government has not been to create a viable and legally compliant arrangement that would see people travelling to and from Orkney benefitting from greatly reduced fares."