news
Loganair is 'moving in the right direction', says CEO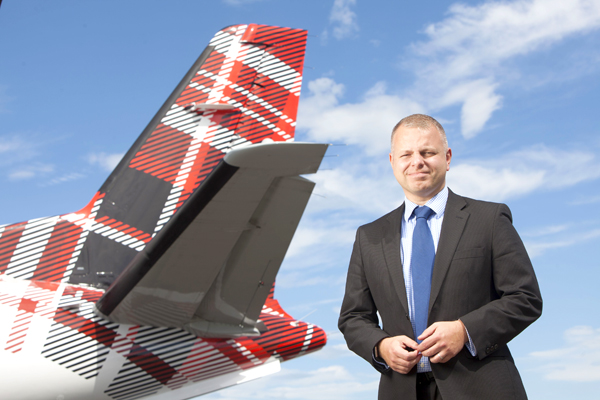 Following further disruption in recent weeks, Loganair has published another open letter to Orkney passengers, outlining the improvements it has achieved and the reasons behind the delays and cancellations.
The letter, from the airline's CEO Jonathan Hinkles, follows the publication of an open letter in May to provide an update on service levels and apologise to travellers.
In his latest letter the Mr Hinkles claims that on-time performance was hitting 100 per cent by early June for Kirkwall services to Inverness and Shetland, and 88 per cent for Aberdeen. However, on-time performance for Glasgow and Edinburgh services varied from 58 per cent to 70 per cent.
Despite the improvements, he acknowledged the airline has "quite a way to go" before it attains its desired service levels.
He said: "All this says that we still have quite a way to go in getting services to where we all want them to be, yet overall, we are moving in the right direction. Even so, we know that if you were on one of the disrupted flights or another service that didn't go on time, the statistics don't make it any easier."
The CEO said that unprecedented travel disruption across the UK was having a negative impact on Orkney services, citing how aircraft and crews are being significantly delayed by difficulties on the ground — especially at larger airports. Issues impacting flights include waiting for passengers on connecting flights from Birmingham and Manchester, crews running out of working hours due to delays elsewhere, airports running out of fuel, air traffic control delays, and severe congestion as flights from all airlines run off schedule. 
He added: "The whole system is running under severe pressure, and Loganair is one of six airlines directly engaging with the UK Government on how to fix these problems.
"Distant though they may seem, unless we completely disconnect Orkney from the wider UK air network and onward flights – which we don't believe is in anyone's interests – we can't isolate Loganair's Orkney flights from the effect of these issues."  
Locally to Loganair, supply chain issues are delaying aircraft maintenance, reducing availability and COVID is continuing to cause staff absences. 
Mr Hinkles added: "Our update today is therefore to report on a work-in-progress.  If we had a magic wand to resolve all of the issues that our entire industry is facing, we'd have waved it long before now.   
"Clearly there isn't one, even though that won't stop us working flat out to restore the levels of punctuality and reliability that everyone rightly expects of us.   There are many things across the industry right now that we can't fix, but we will continue to do everything we can to look after our customers."