lifeboats
Lifeboat and Coastguards called out to reports of upturned dinghy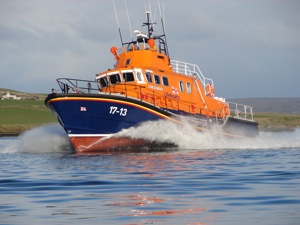 Kirkwall Lifeboat and Kirkwall Coastguard Rescue Team were both called out this afternoon, following reports of an upturned boat in Enyhallow Sound, which following investigation, turned out to be a fish farm mooring which was adrift.
A Kirkwall RNLI spokesman said: "Kirkwall Lifeboat was paged at 12:43 by Shetland Coastguard to reports of an upturned dingy in Eynhallow Sound, the lifeboat departed with six crew aboard five minutes later, and proceeded to Eynhallow.
"Once on scene the object was found to be ashore by the Kirkwall Coastguard Rescue Team, and it was found to be an old salmon farm mooring buoy, which was recovered and returned to Kirkwall by the CRT for safe disposal."
The lifeboat was then stood down and returned to station.
Kirkwall RNLI added: "This was a false alarm with good intent and we would always encourage anyone who sees anything which looks out of place or suspicious at sea to dial 999 and ask for the Coastguard."