lifeboats
Lifeboat and chopper sent to fishing vessel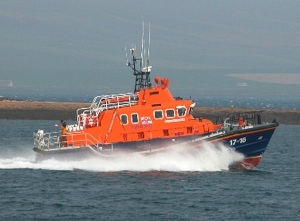 Stromness Lifeboat and a Coastguard rescue helicopter were called out to a Spanish fishing vessel west of Orkney yesterday afternoon, after a crewmember was reported unwell, suffering from chest pains onboard the fishing boat.
A Coastguard statement said: "At around 11.30am HM Coastguard received a request to carry out a medevac of an unwell crewmember from a fishing vessel approximately 50nm north of Orkney."
The lifeboat stood by the vessel while the coastguard helicopter based at Sumburgh lifted the man from the deck of the fishing boat.
The Coastguard said that the fisherman was then transferred to Kirkwall Airport, from where an ambulance transferred him to hospital. Coastguard teams were also sent to Kirkwall airport to assist with the transfer.
The patient's gear and personal belongings were delivered, by the lifeboat, to Stromness harbour, and were handed over to David Sinclair of the Fishermen's Mission, who is assisting the fisherman while in Orkney.