news
Life-saving heart screenings to return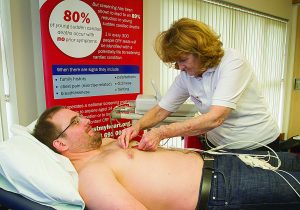 A heart screening event, which could save the lives of young Orcadians, is set to return to the islands, and the organisers are banking on the support of the Orkney community to help them in their mission to detect undiagnosed cardiac issues.
Cardiac Risk in the Young (CRY) have become familiar visitors to Orkney in recent years — screening hundreds of young people's hearts following the tragic deaths of young Orcadians who have died suddenly and without warning.
The free, painless ten-minute screenings, for anyone aged between 14 and 35, can pick up conditions that may not have any noticeable symptoms.
The CRY team is now set to return to Lifestyles at The Pickaquoy Centre once more, for screenings over the weekend of May 14 and 15, marking the first such event since the onset of COVID-19.
Bookings are expected to go live via the Orkney Heart Screening Facebook page from the week beginning April 18. Further details will be provided on the Orkney Heart Screening Facebook page in due course.