news
Largest liner of the season in Kirkwall Bay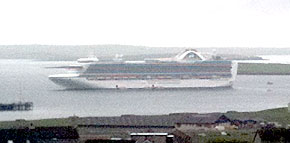 The largest cruise liner due in this year arrived in Kirkwall this morning.
The Crown Princess, with a capacity of 3,599 passengers, anchored in Kirkwall Bay at 7am this morning. The vessel is due to depart again at 5pm.
This is the first of two Orkney visits for the liner.