news
Kirkwall councillor to stand down at end of OIC term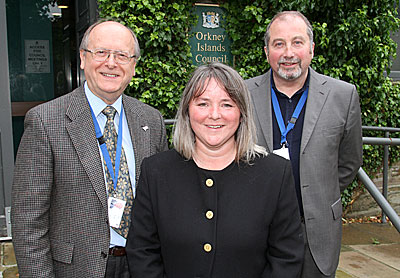 Kirkwall East councillor Bill Stout is not standing for re-election to Orkney Islands Council in May.
He has confirmed this morning that he will also hand over the role of convener of the Orkney Manifesto Group to Councillor Rachael King on March 13, the likely date on which the election will be formally called.
Councillor King and fellow OMG member Councillor John Richards are standing for re-election.
Councillor Stout said: "It has been a very great privilege to serve as a councillor for Kirkwall East on Orkney Islands Council. In spite of the occasional frustrations, it has been rewarding to learn the workings of local government and to make some contribution. I feel sad that I will not be able to apply personally the many lessons I've learnt, but having come to this game late in the day, it's already time to make way for younger players.
"One of the many advantages of being a councillor from within the Orkney Manifesto Group is the possibility of continuity that the party provides. In our first term as a local political party on the council we have learnt as a group, as well as in our individual capacities. Those lessons will be carried forward by the group."
The Orkney Manifesto Group was set up before the 2012 OIC election, by Alistair Gordon, John Richards and Bill Stout, as a grouping of independent candidates, campaigning on a joint manifesto.
All three subsequently were elected, and the group registered as a political party the following year.