news
KGS team triumph in Young Enterprise competition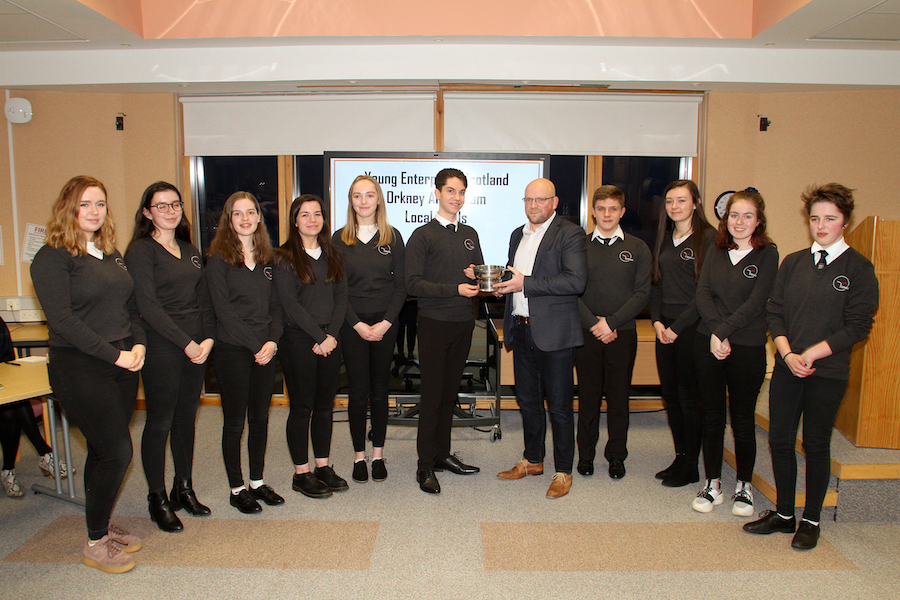 This year's Orkney leg of the Young Enterprise Scotland competition saw a team of pupils from Kirkwall Grammar school — who set up a business producing Orkney-themed clocks — come out on top.
This year saw an all-Orcadian panel of business people choose the KGS team, Timeless, as their overall winners. The team was also awarded three out of the four other trophies to be won — for best trade stand, best digital presence and best company report — at Orkney College UHI,  last night.
The annual competition sees a team from KGS and a team from Stromness Academy go head-to-head, with each developing a product, setting up a business and attempting to make a profit.
The pupils taking part are almost always going into their sixth year of secondary school, with teams formed in June. On top of creating a product and a business, they have their exams to study for.
Last night's event saw the pupils from Timeless and Stromness Academy team, Tempus, deliver their final reports and a presentation to the judging panel and an audience. Both teams faced tough questions from the judges, on how they tackled problems and why they made certain decisions.
Timeless produced a clock inspired by Orcadian heritage — specifically the Standing Stones — while Tempus, which took home the award for best presentation, produced tidal clocks, drawing inspiration from the moon.
Speaking after his team's win, the managing director of Timeless, Harvey Crew, said: "We're all extremely happy with how we've done. We'd also like to say well done to Tempus, who did really well. We're ecstatic right now. We're just glad the hard work has paid off because it's been a very overwhelming experience. We've all gained so many skills from doing this."
Timeless will now go on to the Young Enterprise Scottish final, to be held in Edinburgh on June 5.
Orkney College UHI also sets up a Young Enterprise team each year, which does not take part in the competition. This year's team is called Isle O'Calm who have produced candle making kits, with a view to raising awareness of mental health. The team will deliver its final report at the end of next month.
The judges for this year's competition were Kirsteen Stewart, Glen McLellan, Sarah Casey, David Campbell, Iona Corse and Ruth Pottinger.
For a full report and more photos, see next week's edition of The Orcadian.