advertorial
Kassidy Frontman Barrie James O'Neill To Play Live Show in the Stromness Hotel
ADVERTORIAL: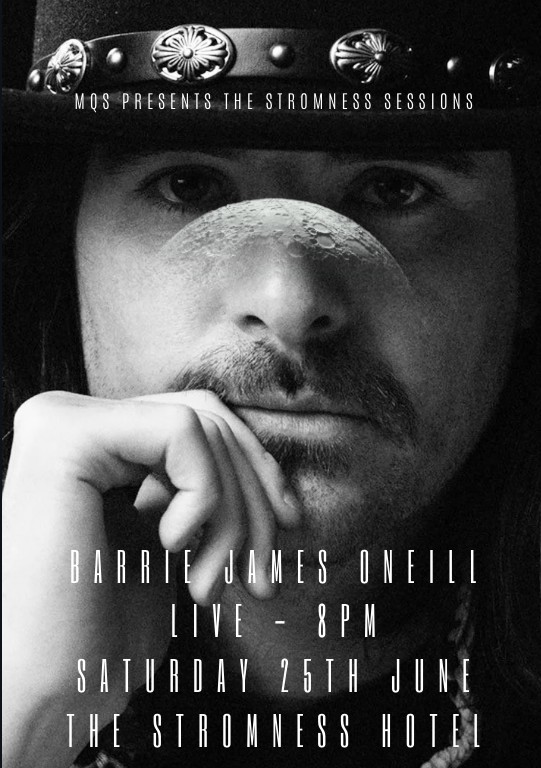 Kassidy frontman Barrie James O'neill will play a live show at The Stromness Hotel on Saturday June 25th.
Off the back of a sold out show at Glasgow Barrowlands on June 2nd 2022, Barrie will travel to Orkney to play the first in a series of live gigs in his Highlands and Islands tour.
The intimate performance will take place at The Stromness Hotel on Saturday 25th June at 8pm.
Tickets = £35 – your ticket will include a 3 course meal.
Barrie James was born in Glasgow in 1987.
Barrie emerged on Glasgow's underground club scene in 2004 whilst still at High School, forming his own band 'The Experts' and went on to play live shows at Glasgow's renowned hazy underage haunt Strawberry Fields.
His first commercial recording, The Rubbergum EP Volume 1 was released on 16 August 2010 on Mercury Records. The EP captured Barrie's remarkable music talents, playing with his 3 new bandmates in their converted studio in Glasgow's southside, the neighborhood he'd made his home.
By the time of the EP's release in 2010, Barrie had already entered the studio with his bandmates and producer and recorded their debut album Hope St which was released on 23rd May 2011. On New Year's Eve 2011 Barrie was invited to play Edinburgh's Famous Hogmany street party with his bandmates along with Primal Scream and Mark Ronson. That same year he won a Nordoff Robbins award – previous winners include: Travis, Annie Lennox and Biffy Clyro.
In early 2012, not long after Hope St appeared in stores, Barrie toured clubs and pubs in Scotland as well as across Europe. Following extensive rehearsals Barrie's Tour found him on the road with his band performing his full-length full-band album. Barrie and his group spent much of that year performing around Europe on the festivals circuit, playing at T in the park, Glastonbury, Reading and Leeds, Oxygen Ireland, Rockness and The Caribana Festival in Switzerland.
From January through March 2013 Barrie and his band rehearsed for an American spring tour with gigs running at South by Southwest the annual conglomerate of film, interactive media, and music festival in Austin, Texas, United States. This led to Barrie being asked to support Lana Del Rey from 3 April 2013 to 31 May 2013 on her Paradise Tour in Europe and moving to LA. Over the next two years Barrie began work on his solo album Cold Coffee, collaborating with the likes of Rob Schnapf, Josh Homme and Brian Wilson. His debut full-length album, titled Cold Coffee, was released worldwide on 8 April 2016 with 789,000 copies sold in the first week. "Way Over My Head" and "Night Burns" were released as singles in April 2016.
In January 2017 Barrie returned to the UK and started working on his new album Psychedelic Soup – due to be released March 2018.
In the past year, Barrie has co wrote and released four songs on the new Lana Del Rey album, and reformed with his band Kassidy for a sold out show at Glasgow Barrowlands in June 2022.