livestock shows
Joe the horse named Sanday's yard champion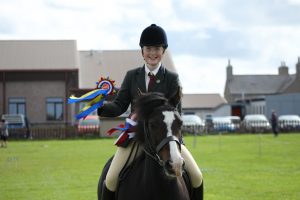 Seventeen-year-old Caitlin Muir and her horse Joe lifted the Champion of the Yard trophy at Sanday Show this Friday, beating the champions of both the cattle and sheep sections.
The 15-year-old Welsh Section D cob has been in the Muir family's ownership for seven years and is a past winner in the horse section at the show.
Colligarth Farm ruled the roost in both the cattle and sheep sections with a home bred one year old steer out of British Blue Cross cow and sired by the bull Carow Wreagh Goliath winning the cattle section and a home bred Texel gimmer the sheep section.
Zara, a seven year old miniature Schnauzer, owned by Diane Blagden of Holland was overall winner in the dog section.
Although entries were slightly down overall attendance at the show was up with sunshine helping make the day a special one for so many