news
Isles MSPs welcome air services intervention from Transport Minister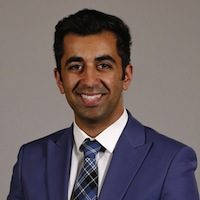 Isles MSPs Liam McArthur and Tavish Scott have today welcomed the intervention of Transport Minister, Humza Yousaf, in support of maintaining good flight connections on Orkney and Shetland's lifeline air services.
Responding to a parliamentary question from Mr McArthur, the Transport Minister confirmed he had spoken with both Loganair and Flybe and encouraged them to explore options for code share arrangements. He hoped that, at the very least, this would ensure that current onward connectivity levels from the Highlands and Islands are maintained.
The Minister's response follows local concerns about the loss of existing connections on Orkney and Shetland's lifeline air services.  Despite the welcome news last week of an expanded codeshare arrangement between Loganair and British Airways, without a similar deal between Loganair and Flybe passengers face having to make separate bookings on some routes outwith Scotland.
In a joint statement, Liam McArthur and Tavish Scott have welcomed the Minister's intervention and urged Flybe and Loganair to heed the calls.
"Good onward connections are a vital part of our lifeline air services.It is good to see the Transport Minister recognise this and lend his support to our calls for action to protect and enhance the existing flight connections in and out of Orkney and Shetland," they said.
"Last week, saw Loganair and BA announce an expanded codeshare arrangement, which is excellent news.  We now need to see Flybe reach a similar agreement with Loganair on routes where they are not competing in the interests of their customers and the communities they seek to serve".
ENDS.