news
In this week's The Orcadian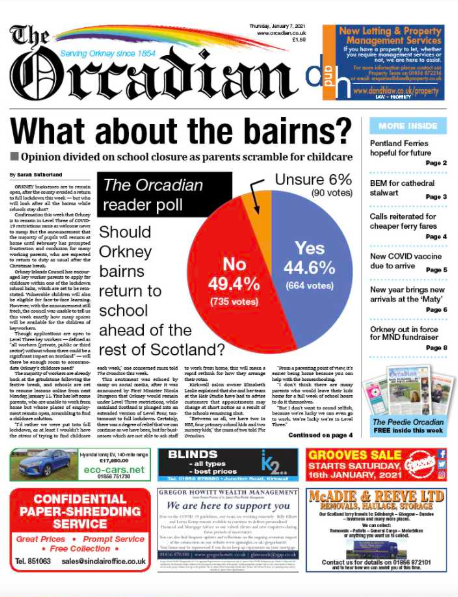 This week's edition of The Orcadian is now in shops and is available online, here.
Pick up a copy today to enjoy the latest edition of our free monthly newspaper for young folk — The Peedie Orcadian. 
On this week's front page — What about the bairns? Opinion divided on school closure as parents scramble for childcare. This article includes the results of our online reader poll, which asked whether an exception should be made for Orkney when it comes to the delay in reopening schools.
Also in this week's newspaper:
Pentland Ferries hopeful for future
BEM for cathedral stalwart
Calls reiterated for cheaper ferry fares
New COVID vaccine due to arrive
New year brings new arrivals at the "maty"
Orkney out in force for MND fundraiser
Fishing sector adversely impacted by exit agreement
Orkney rings in the New Year with a difference
Crowdfunder to launch for Maeshowe card game
Future of farming "not business as usual" in wake of Brexit deal
A look back at the past in From Our Archives
OFC season over?