news
In this week's The Orcadian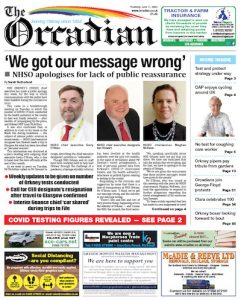 This week's edition of The Orcadian is now available and is online, here.
This week's front page features:
• 'We got our message wrong' – NHS Orkney apologises for lack of public reassurance.
Also in this week's edition:
• OAP enjoys cycling around the UK
• Test and protect strategy underway
• Mixed reaction to B&B funding
• No test for coughing care worker
For all these stories, and much more, pick up a copy of The Orcadian today.