news
In this week's The Orcadian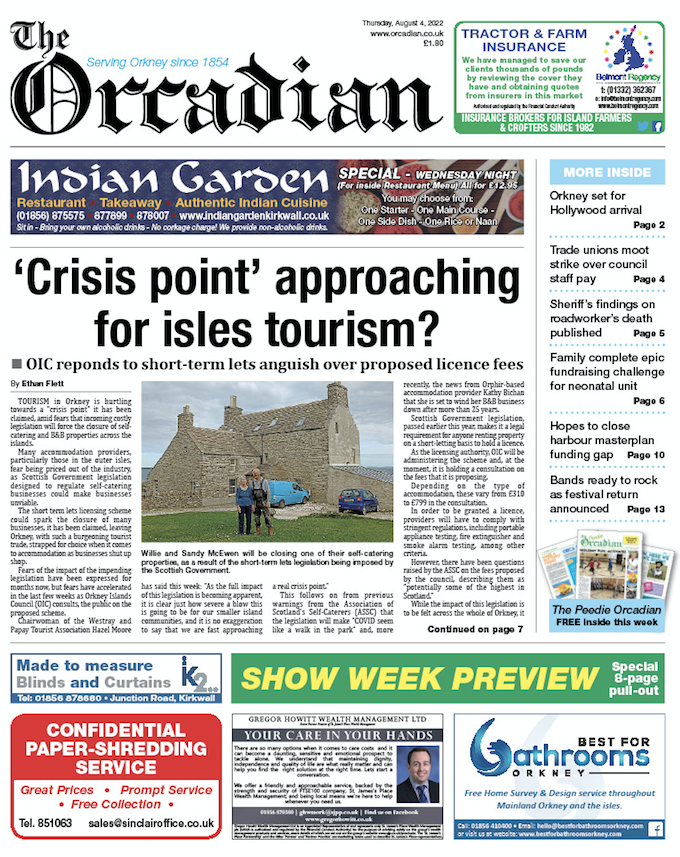 This week's edition of The Orcadian is now in shops and is available online here.
On the front page, news that accommodation providers fear tourism in Orkney is hurtling towards a "crisis point" due to concerns that incoming costly legislation will force the closure of self-catering and B&B properties across the islands.
The paper also includes the show week preview pull-out feature and The Peedie Orcadian.
Inside this week's edition is:
Silver screen to arrive in Orkney
'Hope residents clean up community
OIC staff poised to strike over pay
Sheriff's determination made on roadworker tragedy
Family go the extra 'stride' for sick babies
Mums celebrate peer support scheme as Orkney marks Breastfeeding Week
Diving down into deep water quay funding gap
Reducing waste with a community fridge
Orkney Rock Festival back in action
All smiles in Papay for fun-filled weekend
Orcadians featuring at Commonwealths
Full inter-county coverage