news
In this week's The Orcadian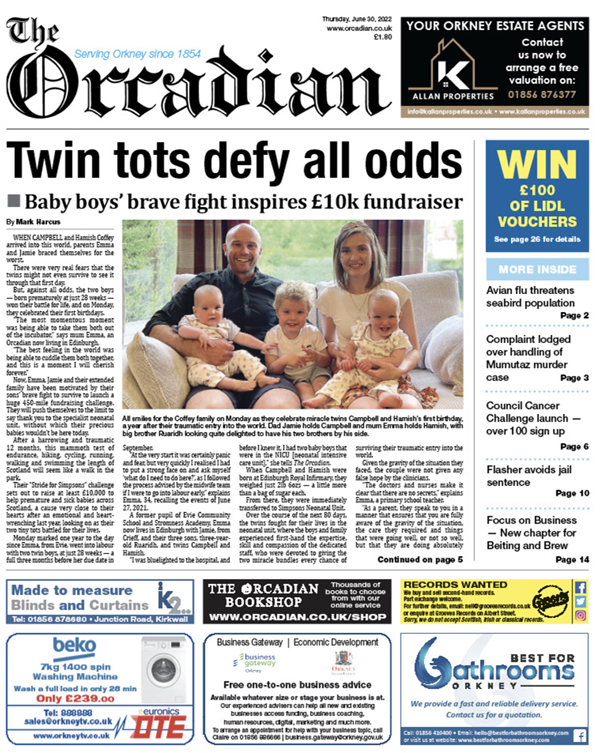 This week's edition of The Orcadian is now in shops and is available online here.
On the front page this week, we lead with the remarkable story of a set of twin boys' fight for life, and how their battle has inspired a huge £10,000 fundraising drive for the specialist neonatal unit who cared for them.
Also in this week's issue, hear all about a pair of entrepreneurs who are cooking up a storm in new premises in Finstown!
Also inside:
Avian flu threatens seabird population
Complaint lodged over handling of Mumutaz murder case
Police chief to retire
Social work challenges continue despite new recruits
Tourism marketing behind OIC's £500,000 media bill
Council cancer challenge launched
Scapa Crescent planning wrangle to go to hearing
Evie playpark "officially" opens at last
OIC heartened by child protection progress
Consultation on controversial short-term lets legislation begins
Housing survey reveals over 600 vacant properties
Circus Montini draws crowds
Orkney farmer appointed beef association chairman
Marine entrepreneur lands prestigious energy award
Burray Fun Day fun
St Magnus International Festival coverage
Community fridge to begin in Stromness
Win £100 of Lidl vouchers
Council trials fully funded late night bus services
Athletic pair join illustrious company in Manchester
For all this and much more, pick up The Orcadian today.