news
In this week's The Orcadian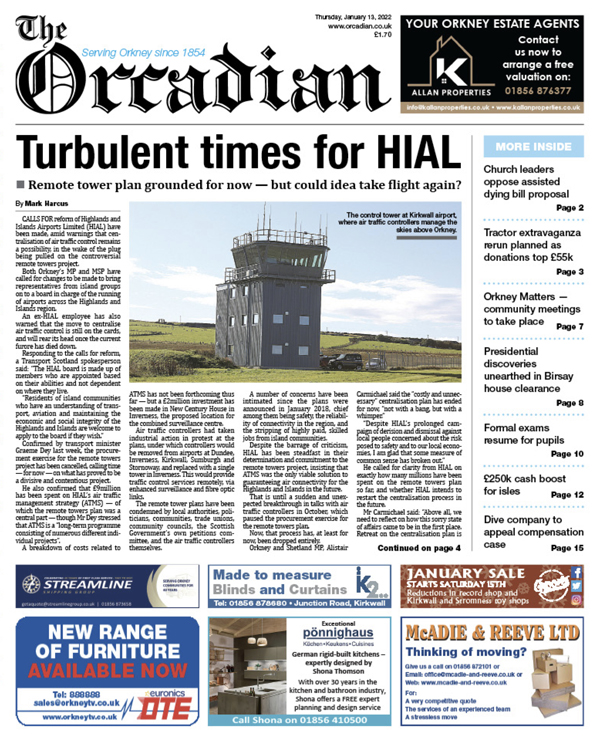 This week's edition of The Orcadian is now in shops and is available online, here.
The front page reports on the news that Highlands and Islands Airports Limited (HIAL) has cancelled the procurement exercise for its remote tower project.
The centralisation of air traffic control at five airports, including Kirkwall, has been a long-running and contentious subject, but after a £9million spend by HIAL on its air traffic management strategy thus far, there are calls for reform and warnings that centralisation has not disappeared completely.
Also inside:
Assisted dying proposal criticised by church leaders
Tractor run online donations come to a close
HIAL chief defends £9m spend in feisty exchange
No return yet for Nordic Sea
Views sought as electric vehicle strategy updated
House clearance reveals presidential discoveries
Pupils prepare for first formal exams since COVID
New bus fleet complete
Changes afoot at Orkney Ferries
Stromness Bonanza winners revealed
Tragedy strikes at the dawn of a new year: The tragedy of the ss Freesia and the epic rescue mission recounted 100 years on
Kirkwall Lifeboat fundraising picks up pace
For all this, and much more, pick up The Orcadian.