news
In this week's The Orcadian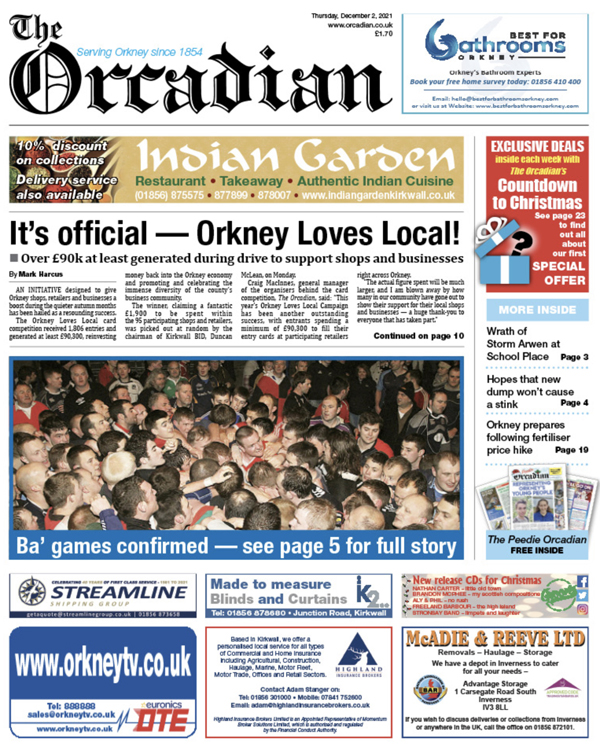 This week's edition of The Orcadian is now in shops and is available online, here.
On the front page, we report on the outstanding success of the Orkney Loves Local card competition, generating at least £90,000 for local businesses and shops. The winner of the £1,900 prize is also revealed!
Also on the front page, we report on the story that the 'Ba, which takes place on Christmas Day and New Year's Day, will go ahead, organisers have confirmed this week.
Included in this week's newspaper is our paper for younger readers, The Peedie Orcadian.
The full statement from the 'Ba committee is published who say that four successful games can take place by following current Scottish Government guidance.
Also inside this week's newspaper:
Council leader queries 'rising' audit costs
Storm Arwen impact felt
Hatston dump to take shape from 2023
'Ridiculous' memorial proposals condemned
NHS Orkney not been advised of any close links to new Omicron variant
OIC housebuild aspirations approved
Children's author unveils debut publication
Fertiliser price hike hits farmers
Christmas Prime Stock Show just the tonic for farmers
Young weightlifters power their way to British title success
For all this and much more, pick up a copy of The Orcadian today.