news
In this week's The Orcadian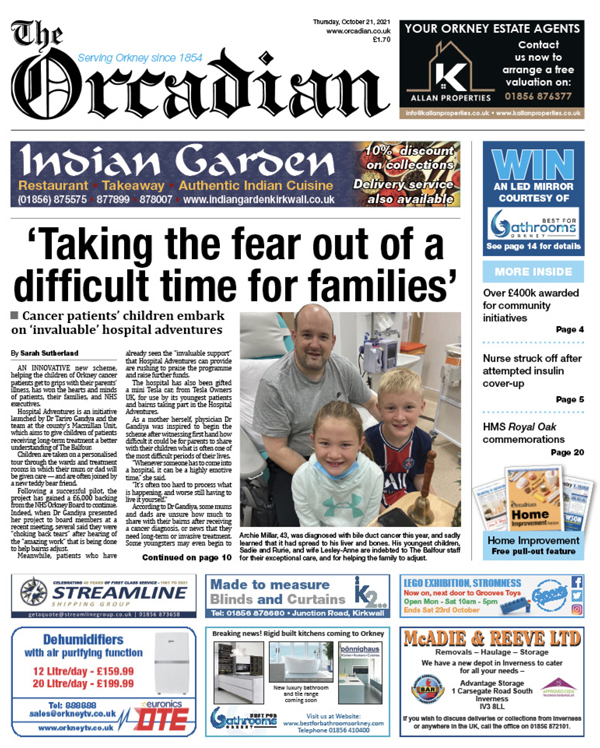 This week's edition of The Orcadian is now in shops and is available online, here.
Also included in this week's newspaper is our Home Improvement feature, which boasts all you need to get your DIY juices flowing, and all the companies which can help you on your way.
On the front page, we report on an innovative new scheme that is assisting the children of Orkney's cancer patients get to grips with their parent's illness.
Hospital Adventures aims to give children a better understanding of The Balfour, taking them on a personalised tour through the wards and treatment rooms in which their mum or dad will be cared for.
Also inside this week's newspaper:
Nordic Sea worth the wait says OIC
Special award for school kitchen staff
Exciting times for North Ronaldsay sheep after funding award
Nurse struck off after attempted insulin cover-up
Orkney part of first UNESCO trail
THAW concern for winter ahead
Pudsey to return to Radio Orkney
Lego builders show off designs
Survey launched into seal cannibalism
Stromness defibrillator donation praised
HMS Royal Oak sinking marked
Prominent Suffolk breeder waves farewell after six decades
Full page of the new kids on the block, the P1s.
The latest Giddy Limit strip.