news
In this week's The Orcadian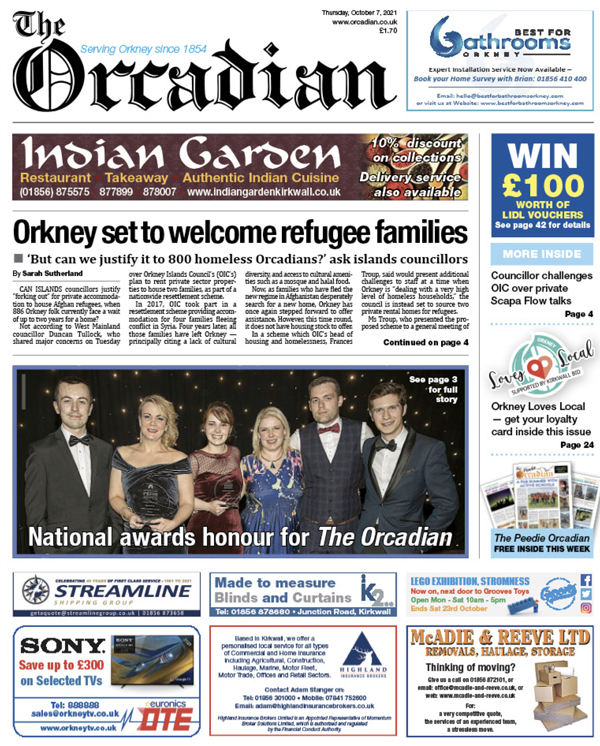 This week's edition of The Orcadian is now in shops and is available online, here.
On the front page, news that Orkney is set to welcome refugees from Afghanistan as part of a nationwide scheme. While the majority of islands councillors are in favour of the move, some have questioned whether Orkney Islands Council can justify "forking out" for private accommodation for these families when 886 Orcadians currently face a wait of up to two years for a home.
Also featured on page one is a photograph of The Orcadian's editorial team celebrating their recent win at the Scottish Press Awards.
Also, inside this week's newspaper:
Councillor challenges OIC over private Scapa Flow talks
Orkney Loves Local — get your loyalty card inside this issue
The Peedie Orcadian — free inside this week
Orkney to shine at Arctic Circle conference
Ambulance posts announced as capacity concerns continue
High praise for Orkney pandemic response
Almost 900 may face two-year housing wait
Glensanda stone order reaches halfway point
Dentistry picks up pace but concerns remain
Reports from the latest criminal proceedings at Kirkwall Sheriff Court
Youths brave jab to 'stop the spread'
School starters from Burray, Dounby and Orphir
Stromness — refurbishments mooted for centre
Gaan Oot — Taking the stage for George Mackay Brown
Marine Scene — Fleet survey researchers to visit Orkney
Sport — runner conquers epic 100-mile ultra
Find new opportunities, notices and announcements in our Classifieds section
Take a Peedie Break with our weekly crossword, sudoku and Giddy Limit cartoon strip
Have a gander at the past in From Our Archives
For all this and much more, pick up a copy of The Orcadian.