news
In this week's The Orcadian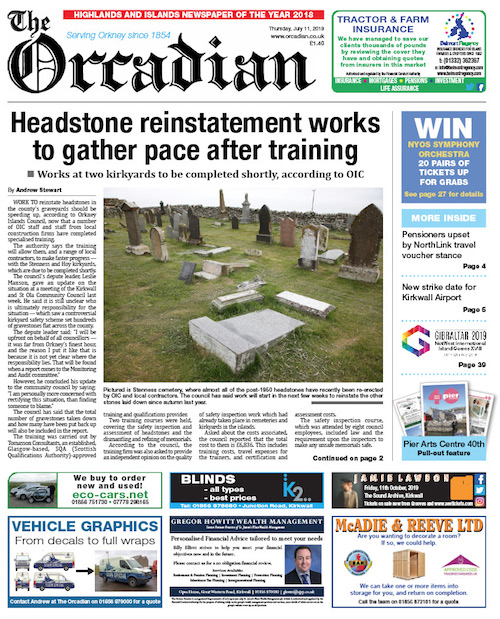 This week's edition of The Orcadian is now available in shops and online, here.
Today's newspaper features a story on the local council saying progress re-erecting headstones — after a safety scheme saw hundreds laid down across the county — should speed up, now that some council staff members and staff from local contractors have completed training.
We also have coverage of all the recent sports action taking place at home and away. We've got five-pages dedicated to coverage and photos from this year's NatWest International island games. Our sports section also has a round-up from this year's St Magnus Marathon, 10k and 5k events which were run in Orkney last Sunday.
Also in this week's paper:
• VIPs attend the Orkney Garden Festival
• A doctor is called as an elderly couple are forced to cancel their travel plans at a check-in desk
• Marking 80 years of the Hatston Aerodrome — a preview of the anniversary events to come on August 3 and 4
• A flight to Aberdeen is cut short due to an engine problem.
For all these stories, and much more, don't miss this week's The Orcadian.