news
In this week's edition of The Orcadian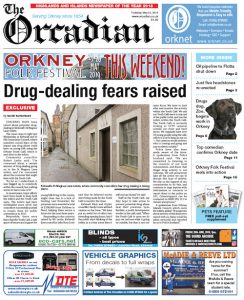 This week's edition is now available in shops and online, here.
This week's front page features a story on fears that drug-dealing may be going on at public toilets next door to a local youth café right in the heart of Kirkwall.
Also in this week's newspaper:
• Orkney's new drugs dog begins work.
• Oil pipeline to Flotta shut down.
• A top comedian confirms a date in Orkney.
• Orkney Islands Council declares a climate emergency.
For all these stories and much more, pick up a copy of The Orcadian today.