news
In this week's edition of The Orcadian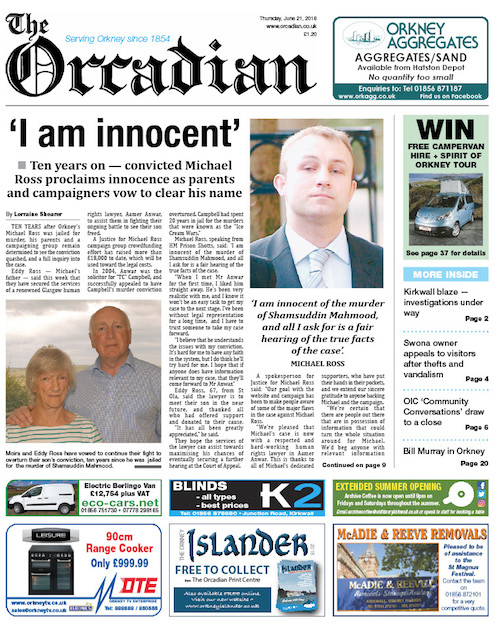 This week's edition of The Orcadian is now available from all the usual outlets and online, here.
This week's front page features:
Ten years after Orkney's Michael Ross was jailed for murder, his parents and a campaign group remain determined to see the conviction quashed, and a full inquiry on the case held.
Michael's father, Eddy, has said this week they have secured the services of a renowned Glasgow human rights lawyer to assist them in fighting to see their son freed.
This week's back page carries the story of the Orkney ultra-distance runner, William Sichel, who is currently taking part in a £3,100 mile race in New York, as well as an article on four Orkney rugby players who have been selected to play for the Penguins invitational team.
Also in this week's paper:
• Investigations continue following a fire at a derelict building in Kirkwall last week.
• The owners of Swona appeal to visitors to help them protect the small island
• The national hotel chain Travelodge eyes Kirkwall as a location for one of their hotels, proposing a financial partnership with the local council.
• Plenty of photos from this year's Firth Gala weekend
• The iconic movie star and comedian Bill Murray visits Orkney
For all these stories, and much more, pick up a copy of The Orcadian today.