news
In this week's edition of The Orcadian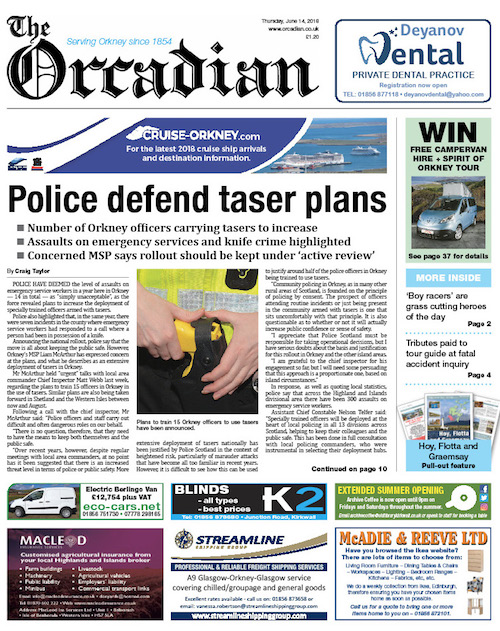 This week's edition of The Orcadian is now available from all the usual outlets, and online here.
Our front page this week features an article where Police defend plans to train 15 Orkney officers to use tasers.
Police have justified the plans, reporting that 14 emergency service workers have been assaulted over the last year.
Our back page this week features an article on ultra-distance runner William Sichel, who has said the backing of the Orkney public could prove crucial as he prepares to take on one of the world's most gruelling endurance tests.
Also in this week's paper:
• Praise for "boy racers" after three-day grass cutting effort
• OIC act to tackle Kirkwall's problem parking areas
• The council's community conversation events reach Kirkwall
• Tributes are paid to a tour guide, who tragically fell to his fell to his death at Yesnaby cliffs last year, following a fatal accident enquiry.
• An eight-year-old climber conquers the Old Man of Hoy.
Make sure and pick up to this week's newspaper to find out who has won our competition, where a 55″ smart TV and a blu-ray player is up for grabs.
For all these stories, plus more competitions, job adverts and plenty more articles, pick up a copy of The Orcadian today.