news
'Home and Away' at the Loft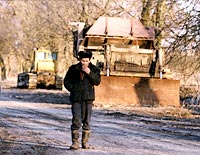 South Ronaldsay photographer, Frank Bradford, launches an exhibition of his most recent work at the Loft Gallery in St Margaret's Hope today, Saturday.
Home and Away features photography from Orkney to sub-zero Canada; belly dancers from Russia to Danish pastries and the hottest day in Austria for 25 years.
The exhibition opens at 11.30am.