news
Gridlock for learner drivers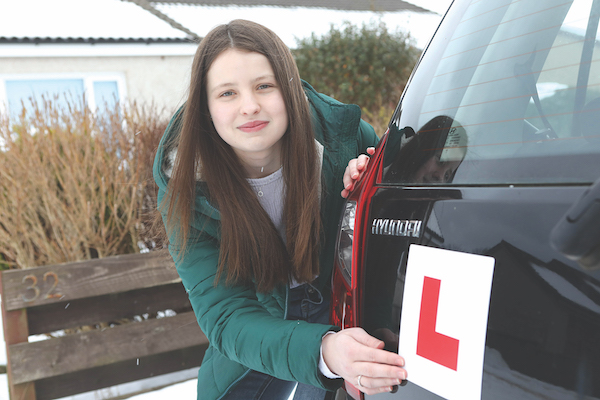 Learner drivers in Orkney have had the brakes firmly slammed on their aspirations to get on the roads, as frustrations grow over an increasing backlog of cancelled driving tests.
Figures released by the Driver and Vehicle Standards Agency (DVSA) showed that in April, 2020, 43 tests were cancelled for the county specifically citing "pandemic" as the reason, with a further one cancelled in June.  Figures from April onwards have not been made available.
There is no driving test examiner based locally, and under current COVID-19 restrictions, examiners are not permitted to travel to the county.
For one Kirkwall teenager, the ordeal has led to immense frustration on not being able to obtain a sense of independence.
Kirsty Harrison, 17, had her theory test cancelled twice, and her practical test has been postponed repeatedly.
She said: "It was hard enough to get a test in Orkney in the first place.
"My theory test was a disaster because I started learning right when COVID was just starting. I couldn't book a test for months, then I eventually got one in May, but it was cancelled, then July, but that was cancelled. Then I managed to get one in August, and passed."
Her lessons also hit bumps. She only managed three before the first lockdown put the emergency stop on them.
After finally being allowed to restart them in August, Kirsty feels her previous practice was "wasted" and that she was starting to learn to drive from scratch.
Originally pencilled in for a test slot in October, after such a long lay-off, she no longer felt confident and so rescheduled and rebooked for mid-December.
However, less than 48 hours before she was due to sit the test, she was informed by telephone it was cancelled. A rebooked January test was again cancelled, and now she hopes to sit her test in March.
What does this mean for Kirsty, and others like her? She says her parents have had to drive her to work every week, and to her sports interests out in Stromness.
"I hate having to rely on them too much," Kirsty said. "I was always keen to drive, just to get that independence."
Kirsty's story highlights the immense difficulties and pressure placed on not only the learner drivers themselves to try and pass during the course of the pandemic, but also on the instructors who devote a huge amount of time and effort into training responsible new drivers.
Robin Nicolson, a driving instructor from Harray, says that 16 of his students have had tests cancelled — some more than once.
As he normally has four students a month passing their test, this number is only expected to grow.
The situation is frustrating for everybody, he said, but he did say that Orkney is "very fortunate" as one of the few places where lessons are permitted.
Another instructor, Dave Stevenson from Kirkwall, revealed that the last student who passed a test with him was in early December, 2020, with multiple tests being cancelled at "very, very short notice".
The issue is not limited to Orkney though. The UK Government has faced growing calls for immediate action.
Most notably, a petition asking to give driving instructors themselves the ability to pass learners has gathered over 57,000 signatures.
However, Robin believes, with instructors at varying levels, handing over the power to pass learner drivers to instructors themselves, is "not really a good idea".
"We just have to be patient," he added.
He also pointed out that a driving examiner is a government role that requires further qualifications and training, and as such, it would not be appropriate for an instructor to fill this role.
The UK Government has also said that is has "no plans" to change legislation.
Another petition, with more than 65,000 signatures, proposes that theory test certificates due to expire this year be extended by another 12 months. The UK Government has again confirmed this will not change.
Despite this continued uncertainty, Kirsty considers herself one of the luckier ones, as many of her friends can't even get lessons due to the backlog.
A DVSA spokesman told The Orcadian: "As soon as it is safe to resume testing, DVSA has plans to increase the number of driving tests available through extended operating hours and prioritising practical driving tests. A recruitment campaign is also underway to increase the number of driving examiners.
"Candidates affected by the suspension in testing are automatically being booked on to the next available test at their chosen centre.
"DVSA is committed to providing as many driving tests as possible while preventing the spread of COVID to its staff and the public."