campaign
Gaan the Distance: Three countries covered as Suceava nears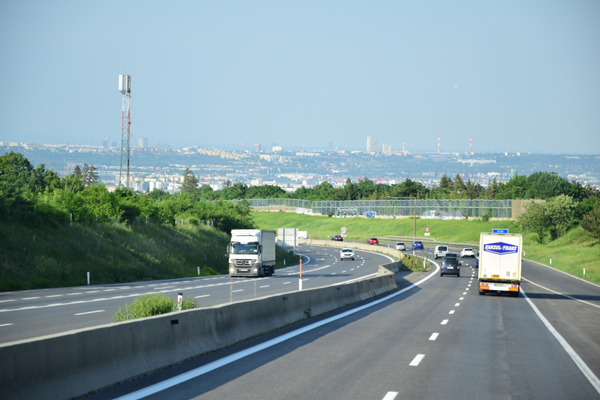 Mark Harcus, a journalist with The Orcadian, and Paddie O'Neill, an HGV driver with McAdie and Reeve, are currently heading to Romania with a lorry and trailer jam-packed full with aid items for the people of Ukraine.
As part of the trip, and in addition to updates on social media, Mark will be chronicling each day in a daily diary.
You can chart their progress at: https://glympse.com/!gaanthedistance
Another day in the hotseat — hot being the key word.
Temperatures exceeded a sizzling 30 degrees at points; it was actually more comfortable sitting in the shade of the cab than it was being outside in the stifling heat.
I'm going to keep this update fairly short as it's been a fairly tiring day — how can sitting in a seat all day be tiring?!
After struggling to find somewhere to park in Germany last night, we eventually squeezed ourselves into a space and rested up for the night.
Leaving this morning, getting into Hungary was the objective, and if we successfully completed that, it would mean another day we had covered three countries.
The drive has gone without incident, encompassing half of Germany, the whole of Austria and in the time I have been writing this, we've entered Hungary.
Just the 450 miles covered today — and counting.
Our initial plan of hitting Suceava in Romania on Friday now out of the window, we are now racing against the clock to reach there before Sunday.
Saturday will be Paddie's sixth consecutive day of driving, so he must take 24 hours off on the seventh day. In any case, HGVs are not permitted to drive on a Sunday in Europe.
So wherever we get to on Saturday night is where we will be parked for the next day, hence the desire to get to Suceava.
Florentin, the contact in Romania, is understandably anxious to see us arrive, keeping in regular contact, as he coordinates his end.
Even if we do reach Suceava on Saturday, Paddie cannot legally work on Sunday, and this includes unloading a stationary lorry and trailer.
He must take a complete 24-hour break — from driving and any work-related activity.
So at this moment in time, it's looking more like Monday before we will be unloading.
It will be what it will be furtiver. We're hopeful of getting a good bit further into Hungary tonight and get a good shot at Suceava, or close by.
While we have a long way to go yet, in the overall journey, we're almost at the halfway point, nearing our destination.
We will then turn back back west and head back to the UK.
Before we do that, we just have the small task of handing out vital aid supplies to help people displaced by war.