campaign
Gaan the Distance for Ukraine: Praise lavished on community for phenomenal response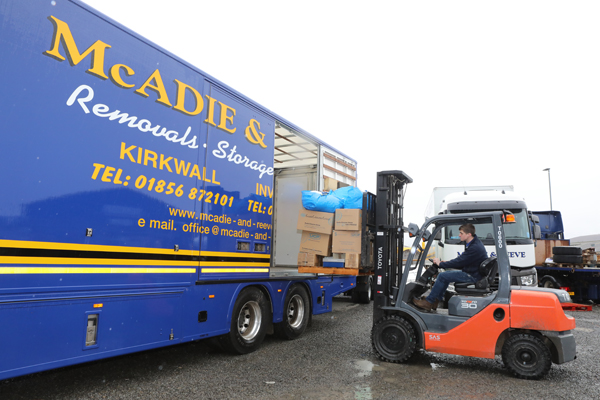 The organisers of a huge campaign to send items to those fleeing conflict in Ukraine have thanked the Orkney public for the "exceptional" response so far, and have said that the support from the community has exceeded all expectations.
Donations for the Gaan the Distance for Ukraine appeal have been pouring in every day since it was launched by The Orcadian and McAdie and Reeve earlier this month, in response to the horrific events in the country following Vladimir Putin's invasion.
"First and foremost, I want to thank every single person who has contributed and is assisting in Orkney playing a small role in this enormous humanitarian crisis," said Mark Harcus, the sub-editor of The Orcadian.
"The sheer amount of items that have been dropped off at the various collection points throughout Orkney, and then being processed at McAdie & Reeve has been utterly astounding, and just shows the strength of support that exists within the islands to help people who have been forced to flee for their lives.
"When we launched the appeal, never could we have imagined that we would be met with such exceptional support. Donations continue to pour in and we continue to raise funds to be donated to The British Red Cross Ukraine Appeal.
"It's been an amazing response from the Orkney community and I am hoping that it will continue in the days and weeks to come."
Gaan The Distance For Ukraine sets out to send a lorry load — possibly even more — full of these donations from Orkney.
The Orcadian and McAdie & Reeve will then make the 4,500-mile return journey to a collection point in Suceava, in Romania, close to the border with Ukraine.
From there partners working with Blythswood Care charity will take the items and deliver them to refugees who have been forced to leave their homes and homeland in order to seek the safe refuge of neighbouring countries.
A fundraising appeal to cover the costs of the epic trip reached its target within three days and has now broken the £10,000 mark, although once cheque and cash donations are added, the final total is set to rise even further.
Now, volunteers are working every week to process the items ahead of stringent customs checks, with each donation having to be re-packed, weighed and labelled.
In terms of a date that the lorry will leave Orkney, that is still being finalised but if donations continue to pour in, then the sooner the lorry can go.
Martin Drury, of McAdie & Reeve, said that he had been stunned but heartened by the number of items that continued to come through the door of their Hatston base.
"In times of crisis, Orkney excels and for a small island community, we often go above and beyond in our efforts to help others," said Mr Drury.
"I'm pleased to say that the Gaan the Distance for Ukraine appeal has been no exception. We have been overwhelmed by the volume of items that have come through the door — and still continue to come through every day.
"In addition to the items we have appealed for such as bedding, mattresses and toiletries, we have had donations of redundant hospital beds, pushchairs and buggies, and even wheelchairs.
"There has been no let up. We have processed hundreds of boxes already and we continue to fill every available space with items. I want to thank everybody who has donated items as well as all the volunteers who have donated their time to helping us process the items, the isles hauliers who are generously helping us cover our islands, and all the businesses who are acting as a collection point, or donated money to the appeal."
The JustGiving page can be found by clicking here.