campaign
Gaan The Distance For Ukraine: JustGiving page goes live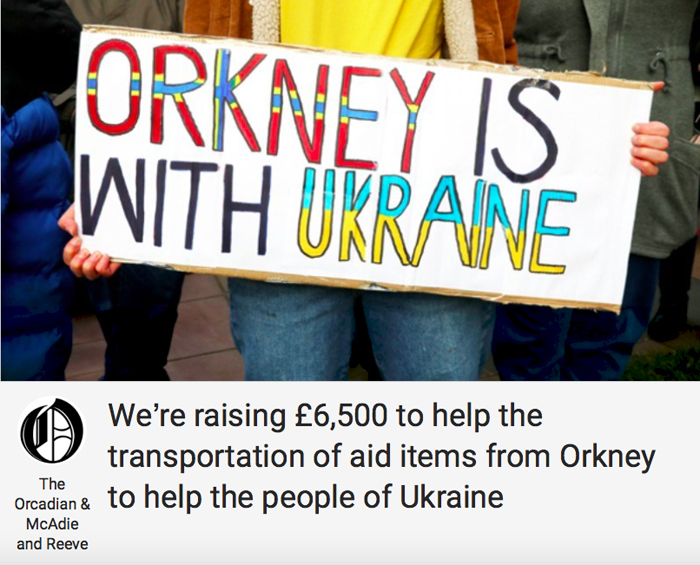 A fundraising target of £6,500 has been now been set and a JustGiving page has gone live as part of a huge Orkney campaign to help the people of Ukraine.
The Orcadian and McAdie & Reeve have joined forces, launching an appeal, Gaan The Distance For Ukraine, that will see the delivery of vital items to Ukrainians in their time of need.
It is planned that a McAdie & Reeve lorry will leave Orkney in six to eight weeks time, full of items and goods donated by the community. More details on the items required and donation drop-off points can be found here.
But this ambitious mission to help those fleeing war cannot happen without your support.
Making the mammoth 4,500-mile return trip from Orkney to a collection point in Suceava, in north-east Romania, close to the Ukraine border, is not without its complications.
An initial £6,500 target is expected to cover ferries, fuel, abide by complex legislation and paperwork, toll fees and insurance.
The JustGiving page can be found by clicking here.
If donations top the £6,500 target, then the rest of the funds raised will be donated to the British Red Cross Ukraine Crisis Appeal.
McAdie & Reeve are generously absorbing the costs of the driver, sustenance and the trip back from the UK mainland. The Orcadian will coordinate and advertise the campaign, offer weekly updates, and staff volunteer support.
By donating, no matter the sum, you will be playing a key role in helping us make a difference and ensure that the Orkney community sponsors and supports this aid trip.
Mark Harcus, sub-editor at The Orcadian, said: "In recent years, we've seen hugely successful fundraising efforts, including The Orcadian's CLAN campaign, the Longhope Lifeboat Museum and most recently, the Tractor Run for CLAN and The MS Therapy Centre, and I am convinced that this community spirit will rise to the fore again."