campaign
Gaan The Distance For Ukraine: Early appeal support 'overwhelming' as donations flood in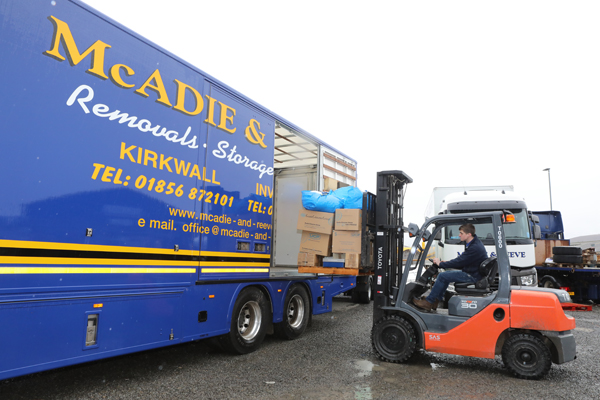 The Gaan The Distance For Ukraine appeal has received tremendous support since being announced on Thursday and just over 24 hours since the appeal's JustGiving page went live.
Donations of items have already started to flood at some of the 14 drop-off locations across Orkney, and fundraising has already raised over £5,000.
The Orcadian and McAdie & Reeve have joined forces in an appeal that will see the delivery of vital items to the people of Ukraine in their time of need.
A huge call for vital donations and funds is now under way, and at its conclusion, it is hoped that we can personally transport a huge assortment of bedding, mattresses (in good condition), blankets, clothing, shoes, toiletries, hygiene products, children's toys, and baby items such as nappies and wipes to refugees.
Gaan The Distance For Ukraine sets out to send an arctic lorry load — possibly even more — full of these donations from Orkney.
The Orcadian and McAdie & Reeve will then make the 4,500-mile return journey to a collection point in Suceava, in Romania, close to the border with Ukraine.
In around six to eight weeks time, the lorry will then make the mammoth trek to north-east Romania — so we have set an initial fundraising target of £6,500, to cover ferries, fuel, complex paperwork, toll fees and insurance.
By donating, no matter the sum, you will be playing a key role in helping us make a difference and ensure that the Orkney community sponsors and supports this aid trip.
If donations top the £6,500 target, then the rest of the funds raised will be donated to the British Red Cross Ukraine Crisis Appeal.
McAdie & Reeve are generously absorbing the costs of the driver, sustenance and the trip back from the UK mainland. The Orcadian will coordinate and advertise the campaign, offer weekly updates, and staff volunteer support.
The JustGiving page can be found by clicking here.
Mark Harcus, sub editor at The Orcadian, says that the support for the appeal shown by the people of Orkney has been truly outstanding.
"We have been absolutely inundated by donations of items, donations to our JustGiving page, offers of volunteers, businesses offering to be locations for people to drop off items, and messages of support and goodwill.
"It has been overwhelming and it shows Orkney's clear appetite and desire to assist the people of Ukraine in their time of need.
"It has been such an encouraging start and now we are well on our way to making this mammoth aid trip happen."
The Orcadian and McAdie & Reeve are working in collaboration with Blythswood Care charity, who in turn, have partners in Suceava in north-east Romania, who are now working on the front line of this humanitarian crisis.
The goods we are being asked to collect are:
Clothing (small amount)
Mattresses (clean)
Bedding
Pillows
Hygiene items (ladies)
General toiletries
Hats, scarves and gloves
Toys for children
Blankets
Baby items such as nappies and wipes
Unfortunately, due to regulations, strictly no food, water or medicine can be accepted.
Please can you label all boxes and bags with Gaan The Distance for Ukraine Appeal.
The collection points that people can drop items off at are:
Kirkwall
McAdie and Reeve, Hatston
Orkney Photographic, Bridge Street
Co-op (Picky store)
RBS, Victoria Street
VAO, Anchor Buildings, Bridge Street
Stromness
Barbara Smith, 24 Faravel, Garage #8, (07592895325 — please make arrangements by phone to ensure garage is accessible)
Dounby
Finstown
Finstown Post Office (please call 01856761692 if out of normal Post Office opening times)
Mark Harcus, 10 Jib Park (please call 07966450494 to arrange drop-off/collection)
Westray
Sanday
Sinclair Haulage, How Farm (Collections are also available by contacting info@sinclairhaulage.com)
Stronsay
Eday
Pier Store (marked C/O Jim Holland Haulage)
Flotta and Hoy
A huge thank you to all those, especially the isles hauliers, who have offered their services to be a donation point. Please if you can offer a drop-off point, get in touch.