campaign
Gaan the Distance for Ukraine: £10k milestone nearing ever closer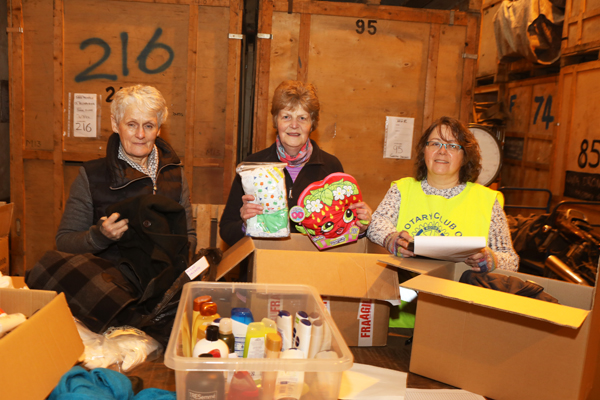 An appeal to help fund the transportation of vital supplies from Orkney to help Ukrainian refugees, and raise money for The British Red Cross Ukraine Appeal, is now closing in on £10,000.
Gaan the Distance for Ukraine is a collaborative effort by The Orcadian and McAdie & Reeve, aiming to personally deliver a lorry load of aid items from Orkney to Suceava in Romania, close to the border with Ukraine.
The appeal's JustGiving page has been inundated by donations and messages of support since Friday, March 4, and the initial £6,500 target was achieved in just three days.
Now, close to £9,000 had been raised online but when cheques and cash donations are added, the total is closer to breaking the five-figure sum.
Any money over the original target is set to go to the British Red Cross Ukraine Appeal.
The Orcadian's sub editor Mark Harcus has expressed his huge gratitude to all those who are assisting in the appeal.
The campaign to raise funds is running alongside a huge call for items to help fill the lorry and help people who have had to flee their homes after Russia's invasion.
After an outstanding response in the appeal's first week, in which the public's support has been overwhelming, volunteers and McAdie & Reeve staff processed a lorry load of items this week.
In order to comply with customs checks, all items need to be processed, re-packed into boxes, weighed and an inventory created.
During the first week, more than 400 boxes have been sorted and donations continue to flood in from members of the public and the business community.
As for items, the appeal continues to seek:
Clothing (small amount)
Mattresses (in clean good condition)
Bedding
Pillows
Sleeping bags
Sanitary products
General toiletries
Hats, scarves and gloves
Toys for children
Blankets
Baby items such as nappies and wipes
Baby clothing
Unfortunately, strictly no food, water or medicine can be accepted.
Please can all boxes and bags be labelled with Gaan The Distance for Ukraine appeal.
The collection points that people can drop items off at are:
Kirkwall
McAdie and Reeve, Hatston
Orkney Photographic, Bridge Street
Co-op (Picky store)
RBS, Victoria Street
VAO, Anchor Buildings, Bridge Street
Stromness
Barbara Smith, 24 Faravel, Garage #8, (07592895325 — please make arrangements by phone to ensure garage is accessible)
Dounby
Finstown
Finstown Post Office (please call 01856761692 if out of normal Post Office opening times)
Mark Harcus, 10 Jib Park (please call 07966450494 to arrange drop-off or collection)
Sanday
Sinclair Haulage, How Farm (Collections are also available by contacting info@sinclairhaulage.com)
Sinclair General Stores
Stronsay
Jim Holland Haulage (Items to be dropped off at blue container in development trust yard)
Eday
Pier Store (marked C/O Jim Holland Haulage)
Flotta and Hoy
Rousay
Church Centre on Friday, March 18, between 2pm-4pm or ring Eivor Cormack on 821 286 or Emma Melin on
07398 771544 for collection.
Restart Orkney is now offering a collection service for anyone unable to reach a collection point or who may have bulkier items such as mattresses. Give Restart Orkney a ring on 879777, PM on Facebook or email reception@employabilityorkney.co.uk to book in your free collection.
In addition to the link above, the JustGiving page can be found here: www.justgiving.com/crowdfunding/gaan-the-distance-for-ukraine