news
Flu jab reminder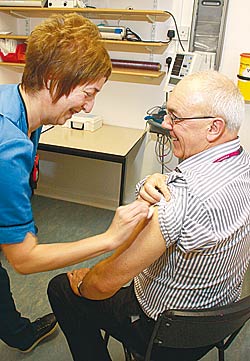 Letters are being sent out to vulnerable people in Orkney offering a free seasonal flu jab.
Everyone in Orkney aged 65 and over, along with younger people considered to be at high risk if they catch flu, will be given the chance to take advantage of the vaccination.
Last year, three out of every four people aged 65 and over in Orkney were vaccinated against flu, slightly above the national average. In all, 4,500 people received this jab, which can be a lifesaver.
Dr Ken Black, NHS Orkney's consultant in public health medicine, said: "I urge everyone eligible for vaccination to come and get the free protection which the vaccination offers against what can be a very nasty disease.
"We're expecting the numbers of flu cases to increase in coming weeks and it's vital that people realise it's time to take action."
People at risk are asked to contact their GP or practice and details of where and when the flu vaccination will be issued from will be made available next week.