news
Flight turns back to Kirkwall suffering from engine issue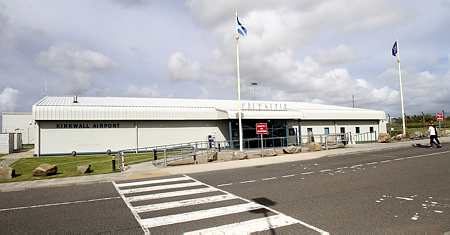 Emergency services were on standby at Kirkwall Airport this morning after a Loganair plane turned back after suffering from engine problems.
Loganair flight LM031 from Kirkwall to Aberdeen landed safely back in Kirkwall this morning, with airport emergency services on standby, after an issue with one of the aircraft's engines.
A statement from the airline said: "The Saab 340 aircraft with 27 customers and three crew members aboard landed at 08:05 hrs, and taxied to its usual parking stand where customers were able to disembark as normal.
"A replacement aircraft has been requested for customers to continue their onward journey to Aberdeen."
A spokesman for Loganair added: "Loganair's pilots and crew are extensively trained for this type of rare scenario, following procedure to land safely at Kirkwall Airport. Customers will be transferred onto a replacement aircraft and we'd like to apologise for the disruption to their travel plans. Our engineering team at Kirkwall is inspecting the aircraft to detect the cause of the fault."