breaking news
First Minister warns 'difficult decisions' may be made as Omicron 'surge' nigh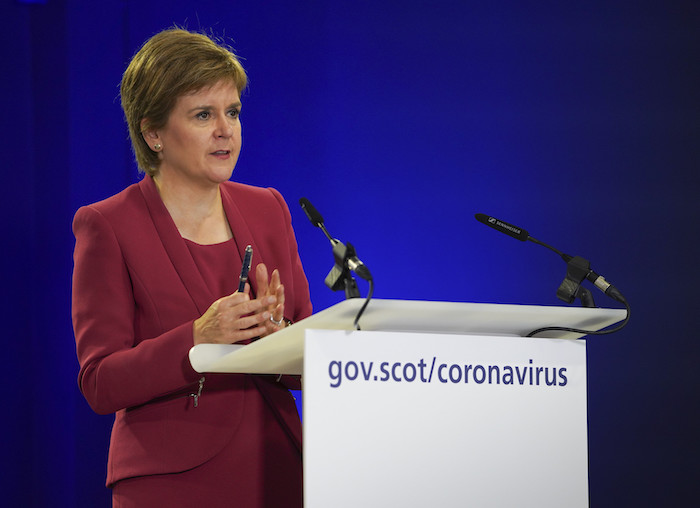 Scotland's First Minister has backed guidance by Public Health Scotland urging folk to defer Christmas parties, amid concerns that the Omicron variant of COVID-19 will soon become the most prevalent in Scotland.
In a briefing this Friday afternoon, Nicola Sturgeon warned that "difficult decisions" might have to be made in "days to come" amid this "surge". Aware of the potential economic and social impact that further pandemic restrictions might have, she said that a lot would depend on if financial aid could be agreed with the UK treasury.
Ms Sturgeon is due to join leaders of the other three UK nations in a four nations COBRA meeting, this afternoon.
The Scottish Government has also released a new report on data relating to the Omicron variant in Scotland.
Ms Sturgeon said the data showed that the new variant was resulting in "perhaps the fastest exponential growth that we have seen in this pandemic so far".
With the Government expecting Scotland's "R number" — the rate at which the virus is being transmitted — to rise from around one to over two and possible as high as three in the coming days and weeks, fears are mounting over the impact this may have on the NHS nationwide. The First Minister explained that data indicated a much higher rate of transmissibility of Omicron compared with the Delta variant, and that while there is not yet data to suggest whether it cause more or less severe illness, the sheer amount of cases across the county could result in rising hospital admissions.
"I'm putting this out there not to try to scare people, but to try to provide context for the difficult decisions that governments might have to take in days to come," Ms Sturgeon said.
"We in the Scottish Government will be considering next steps carefully.
"I will be discussing matters on a four nations basis too. I'm mindful that everything we do and everything I say today has a potential economic impact for businesses. UK funding arrangements mean that we have no choice but to look to the treasury to act, and that's a point I will be raising again with the UK Government in a COBRA meeting later this afternoon."
As well as urging the nation to stick to the current COVID-19 guidelines, Ms Sturgeon urged the public to heed guidance issued by Public Health Scotland, yesterday evening, urging the deferral of Christmas parties. She also appealed to the public to "think carefully" before attending crowded places.
The Scottish Government has also issued further guidance on self-isolation. If you received a positive COVID-19 test, all members of your household must now self-isolate for ten days — regardless of whether they initially receive a negative PCR.
So what has changed today?
From tomorrow, all household contacts of positive COVID-19 cases must self-isolate for ten days, regardless of vaccination or negative PCR status.
Non-household contacts of a positive case must seek a PCR and self-isolate until they receive a negative result.
The Scottish Government has urged the public to defer Christmas parties and to "think carefully" before entering crowded spaces.
The First Minister has not ruled out the deployment of further pandemic restrictions, warning that "difficult decisions" may have to be made in the days to come.
More to follow.