news
Fire-hit fast food van owner thanks Orkney community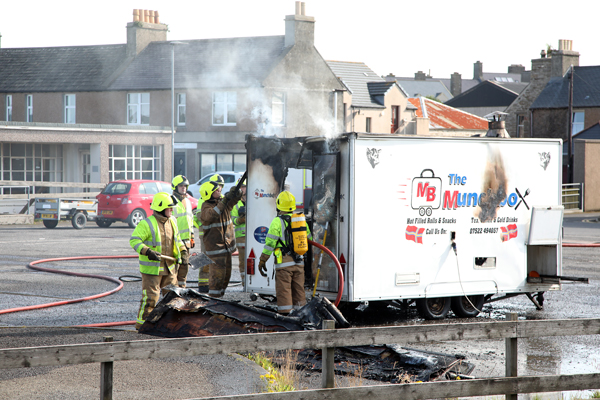 The owner of The Munch Box fast food van which went ablaze in central Kirkwall last week has thanked family, friends, and the wider community for offers of help, and messages of support.
Two employees, Megan Cormack and Alannah Brown, were inside at the time and while Megan was uninjured, Alannah is receiving medical treatment for a burn to her arm.
Owner Betty Muir said: "I had just been delivering stuff to the van and was walking back to my car, when I turned round to see flames in the area at the urn, which is by the door.
"I quickly ran back and Alannah got out, but it looked like Megan kind of froze, so I ran in and pulled her out.
"We had to run by where the flames were, as the urn was closest to the door. As we got out, it just went up, and the flames engulfed the van."
Ms Muir, who praised partner Paul Martin and staff at her other fast food outlet, The Snak Pot, for their support, went on to say: "We have been overwhelmed by the messages of support and offers of help we have received since the fire from family and friends, but also from folk we hardly know in the wider community."