news
Ferries chairman 'understands frustrations felt in the isles'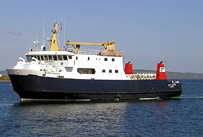 Following a call from businesses in the North Isles for the long running ferry service dispute to come to an end, chairman of the board of Orkney Ferries Graham Sinclair says that he understands the frustrations felt in the isles because of the situation.
He said: "The board's priority is to ensure as resolution to the dispute.  To this end the board has accepted all opportunities to meet with regional and local level representatives to try to work through a detailed proposal which we hope will unlock the dispute.
"Further negotiations have been held recently which resulted in the board providing a formal offer to the unions at the end of last week, with an expectation that members would be balloted.
"This is a difficult time for all concerned. We understand the frustrations of local people and recognise the importance of this service particularly at this time of year."
He added: "There is a huge amount of work being done by the board and Orkney Ferries management and support teams to try to resolve the dispute whilst minimising the disruption to the public. However, until a resolution can be found we cannot rule out further disruption to service as it becomes increasingly challenging to maintain the full schedule of services during the ongoing dispute."