news
Early painting of Kirkwall scene discovered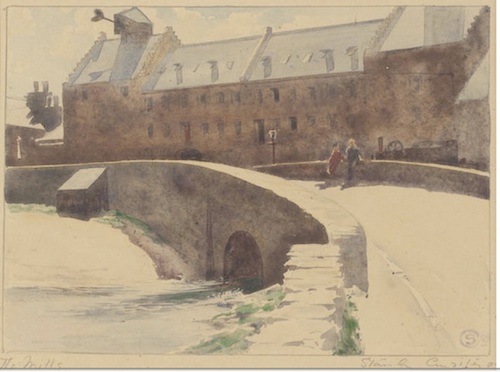 An early painting by Stanley Cursiter, signed and dated 1909, and titled simply 'The Mills', is to be auctioned at Bonhams in Edinburgh on Wednesday.
The watercolour is owned by Angela and Derek Coldwell, who only this week discovered that the painting featured an Orkney scene, having previously thought it was a mill in Edinburgh.
Angela explained: "We have owned this painting for more than 30 years, and believed it to be of a Mill in Dean Village, Edinburgh. We have now been informed by Bonhams that is more likely to be of Ayre Mills in Kirkwall. We have since been investigating Ayre Mills online and from the photographic material available, there seems little doubt that this is the case."
She added: "If Stanley were still alive, we wonder if he would want to paint the building that has since been turned into flats, rather than the iconic tide mill that it had been. Well done to those who recognise the power of the tide for future sources of energy. What goes around, comes around, as the saying goes."
Mr and Mrs Coldwell, who used to stay in Edinburgh, but now live in Hertfordshire, added that hopefully the painting will stay in Scotland and be appreciated as one of Stanley Cursiter's earlier works of art.
A link to the Scottish Art sale at  Bonhams, which also features other later work by Stanley Cursiter, can be found online at www.bonhams.com/auctions/22763/