news
Dream comes true as carved stone ball unearthed on the Ness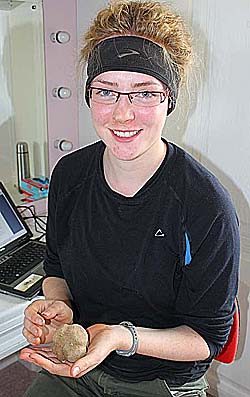 A long-held hope for the Ness of Brodgar was fulfilled today, with the discovery of a carved stone ball from the interior of the Neolithic 'cathedral'.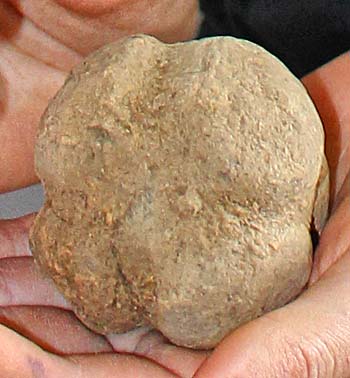 The artefact was found by visiting American student Molly Bond, under the north-east buttress of Structure Ten, directly opposite the incised stone found last week.
Carved stone balls have been found in Orkney before, with perhaps the best known being from Skara Brae in Sandwick, but the latest discovery has the experts particularly excited because it was found in context — in other words, undisturbed, thus allowing the archaeologists to better date the artefact in relation to its surroundings.
A type of artefact firmly linked to the Late Neolithic or Early Bronze Age, the carved stone balls found across Scotland are all of a similar size and are decorated with carved, evenly-spaced patterns of circular bosses or knobs around the surface of the sphere. The designs vary with the majority being based around a series of six knobs — which is the design of the ball recovered from the Ness.
The ball must now be sent to Edinburgh for cleaning at a specialist conservation lab.