news
Doonies claim men's Christmas Day Ba'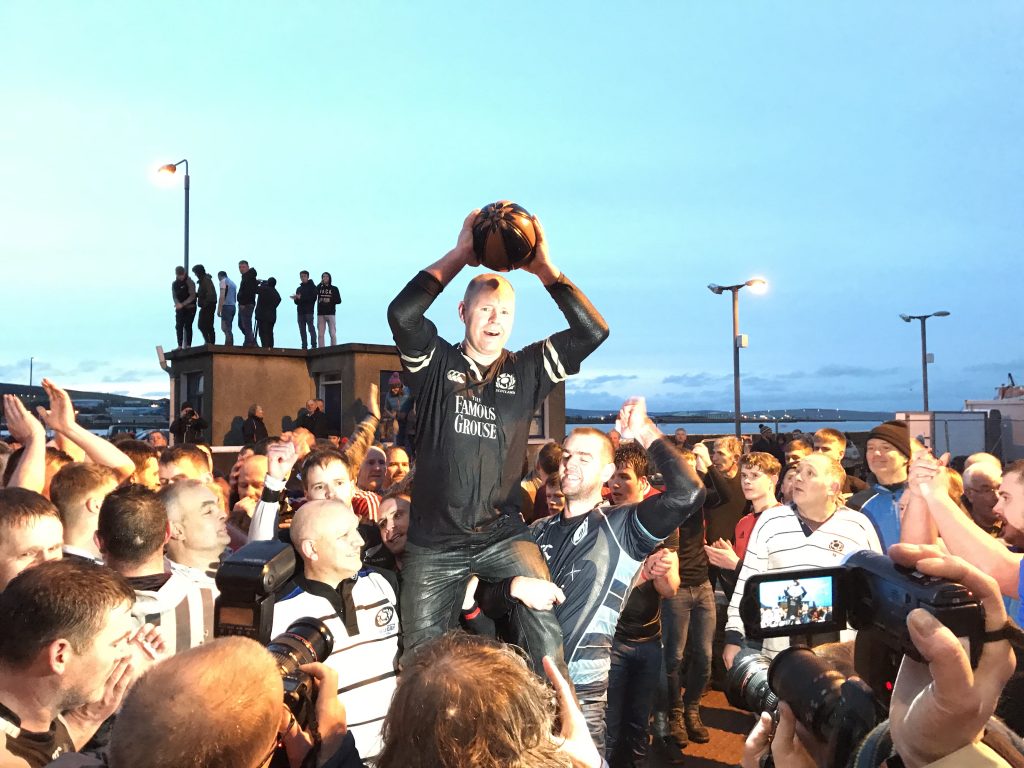 After a lively and tense Christmas Day men's Ba' game lasting just over two-and-a-half-hours, Doonie Kevin Gray was raised high at Kirkwall harbour front as the winner.
Mr Gray, who is 44 and lives in the Weyland Terrace area of Kirkwall but is originally from Shapinsay, has been playing the game since he was 15-years-old. Speaking after today's game, he said: "I'm over the moon. Words can't explain it."
Going back to the start of today's game, it commenced on Broad Street, with former Doonie player Ewan Donaldson throwing the ba' into the ruck of assembled players at the traditional time of 1pm.
What followed was an energetic and tense game, which saw the Doonie side keep the Uppie players on the back foot for the majority.
In an unfortunate, but thankfully rare, set of circumstances, play was stopped within the game's first 30 mins and the crowds on Broad Street parted to let an ambulance and its crew come to the aid of a player who had been pulled from the pack in need of medical assistance. Applause broke out as the man was assisted onto the vehicle.
With the game commencing shortly after the departure of the ambulance, the Doonies began a determined surge towards the basin, which saw them force the Ba' down Castle Street, down Junction Road and, finally, to the basin, despite a determined resistance Uppie side.
The ba' was plunged into the water just after 3.30pm with the following contest between the Doonie players lasting another five to six minutes, after which Mr Gray was raised as the day's winner.