news
Dementia research a priority for genetic volunteers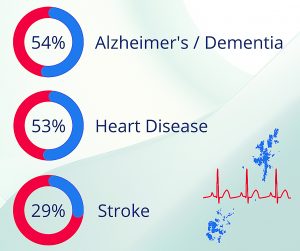 Orkney and Shetland folk are particularly keen to find out whether their DNA has an impact on their likelihood to develop Alzheimers and dementia, genetic researchers have revealed.
The VIKING II genetic study, led by Orcadian geneticist Professor Jim Flett Wilson, has gathered DNA samples from across the Orkney and Shetland diaspora in efforts to analyse specific trends which could tell us more about both our health and history.
A recent survey put out to participants, asking which areas of health they wished to see research focus on, received over 1,400 responses.
When asked what health conditions they felt we should research, more than half of our volunteers felt we should focus on Alzheimer's/dementia (54 per cent) and heart disease (53 per cent). Stroke (29 per cent) was the third most important condition to our volunteers. COVID-19 had the least amount of support, with only three per cent saying it was an area of interest to them.
More on this in The Orcadian, available now online and in shops.