heritage
Decorated rock discovered at the Bay of Skaill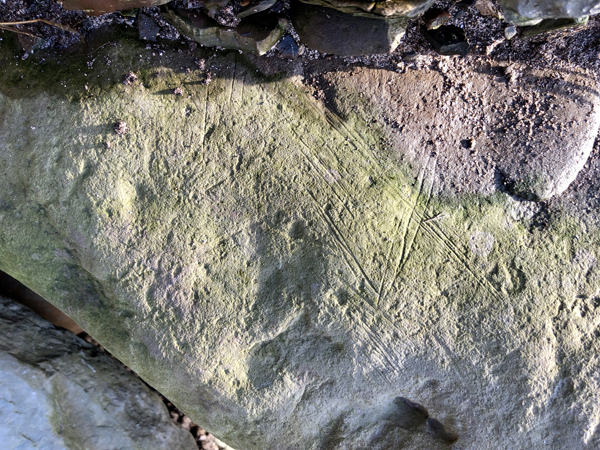 A large decorated stone, featuring incised designs akin to those at Skara Brae and the Ness of Brodgar, has been found at the Bay of Skaill.
The markings were found by Sigurd Towrie, of the University of the Highlands and Islands Archaeology Institute, after he noticed animal remains falling from an eroding section of shoreline at the north end of the bay.
Due to the light, the faint incisions were not visible at first but were spotted during an operation to recover the animal bone a few days later. In the raking light of the setting sun, a pair of incised triangles were clear, along with rectangular bands running across the stone's 60cm wide surface.
But a return visit to the site a few days later revealed there was more.
Sigurd explained: "After recovering the animal remains — a complete and well-preserved cattle jawbone and two loose teeth — poor weather meant it was over a week before I was back at Skaill. This time it was earlier in the day and, once again, the different light revealed much more, showing that the incised marks on the stone were more extensive than they first appeared.
"The triangles were part of a larger, criss-crossed lozenge pattern covering an area of the stone's face. There were also more rectangular bands and lines running across the surface."
He added: "Having been involved with the Ness of Brodgar excavations since the complex's discovery in 2003, I've seen a fair bit of Neolithic 'art' over the past 18 years. In comparison, the Skaill marks are very ephemeral and quite rough — nothing like some of the beautiful, deeply incised decoration from the Ness structures."
Dr Antonia Thomas, the Archaeology Institute's rock art specialist, has confirmed the find is a good candidate for a carved stone — one with designs very reminiscent of those recorded at Skara Brae, just over half a mile away.
The immediate area is too disturbed to suggest what the stone represented or even whether it is in its original location. In the 1930s, walling was discovered nearby, along with midden material, animal bone and four human burials. 
Today, in among the possible structural remains visible in a huge swathe of eroding shoreline is a substantial, but badly damaged, wall. This, together with a deposit of deer remains recovered by Archaeology Institute specialist Dr Ingrid Mainland at the end of 2020, suggests there is another settlement at the Bay of Skaill — one that, from previous environmental sampling, is likely to be four or five thousand years old.
If this is the case, and based on the scale of the eroded section, we may well be looking at a Neolithic/Bronze Age site on a par with Skara Brae. Albeit one that, due to coastal erosion, is now disappearing at an alarming rate.