news
Crown Princess back in port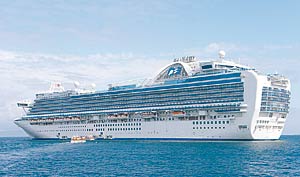 The largest cruise liner of the season, the 113,000 gross tonne Crown Princess is making its second visit to the county, today, Thursday.
With a capacity of 3,599 passengers and 1,021 crew, the vessel arrived in Kirkwall Bay around 7am and is due to sail for Invergordon at 5pm.
A programme of guided tours and shopping expeditions are planned for the passengers and crew throughout the day when they arrive on tenders at the pontoons at the Kirkwall Basin.
Within its 19 decks, the Crown Princess boasts 1,544 cabins, three dining rooms and two speciality restaurants, nine jacuzzis, two show lounges, a cinema, library and casino.