news
Council and parliamentarians react to ferry funding announcement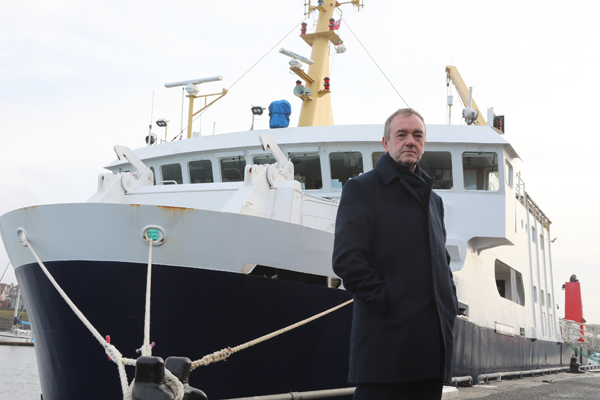 After confirming that Orkney Islands Council (OIC) is due to receive £7.85million to run its internal ferry services for the year ahead, council leader James Stockan said it was an "important day for Orkney".
"It will make a big difference to people's lives in communities across the county," said Councillor Stockan, reacting to the news that Orkney's internal ferry services will be fully funded by the Scottish Government.
The funding will also allow the introduction of further all-year-round Sunday services and a Road Equivalent Tariff (RET) fare structure on Orkney's inter-island ferry routes.
Councillor Stockan said: "We have long argued that our ferries provide a truly lifeline service for the islands they serve — and that the operation should be fully funded by the government, as happens in many other areas of Scotland.
"I am delighted that the Government has recognised this — as well as the strong case we put forward for additional funding that will allow year-round Sunday sailings to Rousay, Egilsay, Wyre, Hoy and Flotta, and the introduction of an RET equivalent fare structure on our local routes.
"I wish to put on record my sincere thanks to Kate Forbes and Paul Wheelhouse for meeting with me last week, listening carefully to our case and responding in this positive way."
Councillor Stockan vowed to continue to engage with the Scottish Government to further improve the inter-island service including the need to replace the ageing ferry fleet.
He added: "Today's announcement is an important step — we will be delivering an increase in service for the first time in many years. However, there is still some way to go before our inter-island service is of a standard we see elsewhere in Scotland."
Orkney SNP candidate for the Scottish Parliament elections Robert Leslie said that the additional funding was brilliant news for the islands. He said: "This delivers on the fairer ferry funding calls that have been made by Lib Dems and the local authority and shows that the SNP government is in full listening mode when it comes to island issues.
"I look forward to these enhanced services and reduced fares being put in place. The next step will be to engage further with the local authority and other parties on the replacement of Orkney's ancient internal ferry fleet."
SNP MSP for the Highlands and Islands Maree Todd added: "The additional £7.7m in funding for inter-island ferries is a positive development and delivers on a key ask from local authority partners at a time of unprecedented financial pressure on the Scottish budget.
"Whilst it is the local authority that is wholly responsible for the ferry services they provide, the SNP Government is sympathetic to the financial pressures which fall on individual local authorities, which we know have been heightened as a result of COVID-19."
She added: "It's worth pointing out that for a long time, local authorities received no funding from the Scottish Government to support inter-island ferries, it is only under the SNP that this has changed and increased over the years. Today, we have a pledge to meet the revenue ask in full, fulfilling the SNP government's commitment to fair ferry funding.
"Considering the draft Budget meets a key ask from the Liberal Democrats, I hope to see the party get behind the budget and support it through Parliament."
Orkney's MSP, Liberal Democrat Liam McArthur said: "This additional funding for our lifeline internal ferry services is undoubtedly welcome. Having been promised 'fair funding' by the First Minister since the last election, it's remarkable how the prospect of an upcoming election concentrates the minds of SNP ministers.
"Welcome too is the proposal to fund RET on internal ferry services. Some of these are amongst the most expensive routes mile-for-mile anywhere in the country.
"Given we are still waiting for RET on Pentland Firth routes three years after it was due to be introduced and 12 years after it was introduced on west coast routes, it may be premature to celebrate just yet.
"Of course, this will not stop SNP politicians from being first in the queue to pat themselves on the back. Let's not forget, however, that Orkney has consistently been short-changed on ferry funding over the course of this parliament since the promises made at the last election.
"There is a strong argument for the millions in under-funding now to be repaid. Indeed, it is a case SNP ministers themselves have been making to the UK Government over VAT payments for Police Scotland. If it's good enough for police funding, it's good enough for ferry funding."
The co-covener of the Orkney Greens, Councillor Steve Sankey welcomed the "long overdue" news.
"The Scottish Greens won an additional £5.5million for Orkney's ferries out of the budget settlement in 2018, and this time around the Scottish Government has finally got there itself, after years of pressure from the three island councils involved and opposition parties," Councillor Sankey said.
"We've been saying for years that the knock-on effect of having to fund the deficit in ferry funding has impacted on us here greatly, and has precipitated budgetary pressures throughout Orkney. We emphasised that the situation was grossly unfair, particularly when compared to the huge increases in funding afforded to Calmac out west. The news that OIC will receive £7.9 million next year is a relief, and will enable improvements in service such as Sunday sailings to the outer isles."
Councillor Sankey concluded: "Fairness with funding is all we've ever asked for, and now 12 years after Road Equivalent Tariff was first piloted, it seems that it will also finally be rolled out on our internal routes, although there is still no mention of the Pentland Firth.
"Whilst this is good news, it now means that we turn our attention to the replacement process for our ancient ferry fleet which ranges in age from 20 to 44 years. It's essential that any replacement proposals commit to a renewable fuel component, be it hydrogen, ammonia or electric, so that we can greatly reduce the high carbon emissions that afflict our marine transport sector."