news
Stromness Community Council delighted by Tall Ships visit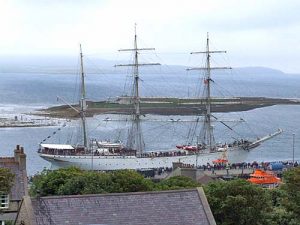 The skippers and crews of the Tall Ships, which visited Stromness earlier this summer, unanimously felt that the harbour was the perfect location for the vessels, with many of them hoping to return in the future.
This was the feedback given to Stromness Community Council on the highly popular event, when it was discussed by members of the community council this week.
"It really was a great success and there was a lot of community effort put into it," said Dr John Brown, who praised everyone involved.
Dr Brown was also especially pleased with how the park-and-ride scheme worked during the event. He said it could be used again, if similar large events were held in the town in the future.
It was agreed to write to Michael Morrison at OIC Marine Services as well as to the local volunteers who were involved in the event, thanking them for their efforts in making it such a success. Graham Bevan said that praise should be given where praise was due and said that a letter of praise should also be sent to OIC Chief Executive Albert Tait.