news
Olympic torch on show in Kirkwall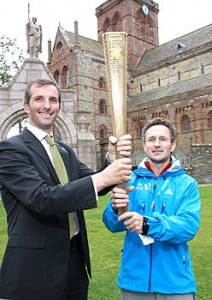 A prototype of the 2012 Olympic torch has been in Kirkwall today, Wednesday, as part of a touring Olympic exhibition.
Orkney is one of the locations involved in the 2012 Olympic relay, in June, next year, so the Bank of Scotland Olympic Torch Tour set up on Broad Street today, where individuals and groups were able to get their photographs taken with the torch.
The exhibition takes visitors on a journey through Olympic Torch relay history and showcases torches from past relays.
The design of the 2012 Olympic torch symbolises each of the 8,000 torchbearers and their community. The torch's triangular, gold-coloured form is perforated by 8,000 circles, representing the torchbearers and their stories of personal achievement or contribution to their local community.