news
Ceremony remembers Orcadian First World War casualties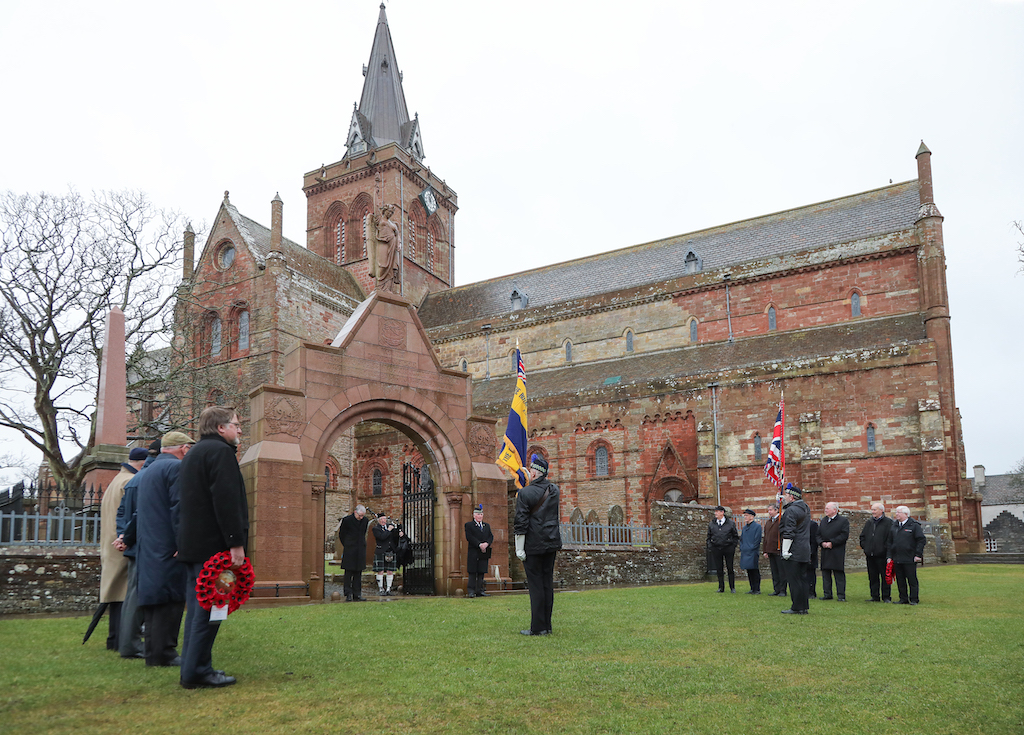 A short but moving ceremony took place at the Kirkwall and St Ola War Memorial on Broad Street at 11am today, organised by the Kirkwall Branch of the Royal British Legion, as part of centenary commemoration events marking the First World War.
The service commemorated the loss of 11 Orkney soldiers who died 100 years ago, to the day, on March 21, 1918, on the first day of the German Offensive on the Western Front, known as Operation Michael.
The service also commemorated the loss of the local merchant ship SS Express, which was sunk on February 9, 1918, near the Pentland Skerries.
All crew died, which included eleven Orkney merchant seamen, and two Royal Marines who were also onboard, when the ship was involved in a collision with the Royal Navy destroyer HMS Grenville, which had apparently mistaken the vessel for a German U-boat on the surface.
Research carried out by local wartime historian Brian Budge has shown that during the First World War there were only four occasions when Orcadian casualties reached double figures on any single day.
The two as mentioned above, as well as on October 12, 1916, when 12 soldiers from Orkney died in the Battle of the Somme, and on April 9, 1917, when 12 soldiers died in the Battle of Arras.
The commemoration service was led by Kirkwall Royal British Legion chairman Eddy Ross and Padre Rev David Dawson.
Kirkwall City Pipe Band piper Brian Findlay played during the service, which took place in blustery and wet weather conditions on the Kirk Green.
Wreaths were laid by Mally Johnston and Eoin Carter from the Kirkwall Royal British Legion. The Legion colours were carried by Steve Davis and Albert Garriock.
Also present for the ceremony was Lord Lieutenant of Orkney Bill Spence, joining Legion members, and others with connections to those who lost their lives 100 years ago.