news
Centenary of naval tragedy remembered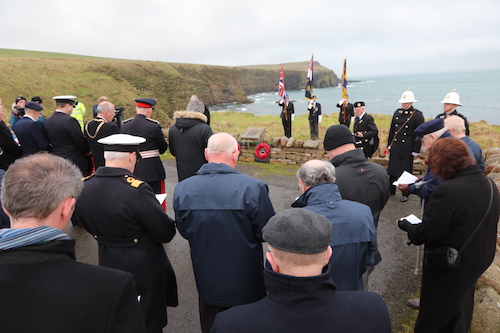 Wreaths were laid today in memory of the 188 men who perished when two Royal Navy destroyers hit rocks off Orkney 100 years ago.
HMS Opal and HMS Narborough ran aground and were wrecked as they battled through heavy seas and a blizzard to find the shelter of Scapa Flow.
The tragedy occurred on January 12, 1918. All but one of the men on board the two warships lost their lives.
The wreaths were placed at the Opal and Narborough memorial at Windwick Bay, South Ronaldsay, during a commemorative service to mark the centenary of the disaster. Those involved observed a minute's silence after Royal Marine buglers sounded the Last Post.
Orkney Islands Council convener Harvey Johnston said: "We stood close to where the two destroyers ended up on the rocks in atrocious weather conditions and all we could hear during the minute of silent reflection was the sound of the wind and the sea.
"It is difficult in such a peaceful place to comprehend what the men on board must have gone through. It was a terrible tragedy and it is so important that we remember their courage and their loss in the service of their country."
The two destroyers were on a night patrol to the east of Orkney and on the lookout for German ships and submarines laying mines.
As conditions worsened, the Opal and Narborough were in danger of being swamped and were ordered to return to Scapa Flow. As the blizzard set in, and with visibility near zero, they ran on to rocks off the east coast of South Ronaldsay.