news
Blame game between HIAL and ministers will do nothing to resolve dispute says union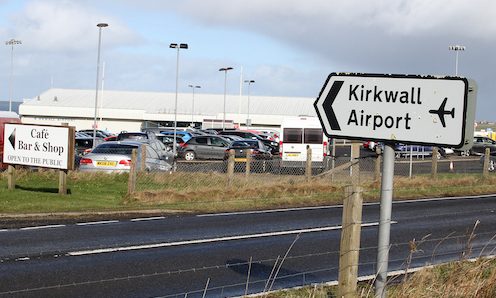 The union representing the Air Traffic Controllers (ATCs) in the ongoing pay dispute at some of the airports run by Highlands and Islands Airports Ltd (HIAL) has said the situation has now become "unacceptable" — with HIAL management saying Scottish ministers are responsible for resolving the dispute, while the First Minister says the responsibility lies with HIAL.
The Prospect union has said, when she spoke in parliament last week, Nicola Sturgeon made it clear that she thought it was the employer's responsibility.
Being asked by Edward Mountain MSP, in light of the strike due to take place later this week on May 23, if the Scottish Government had a contingency plan to minimise disruption to businesses, families and patients in the Highlands and Islands, the First Minister replied:
"It is disappointing that the industrial action is taking place. I appeal both to the employer and to the employees to continue to discuss how it can be resolved in order that there is no disruption to the travelling public.
"Of course, it is for HIAL to ensure that it has contingency plans in place, and it is working to do that. I am sure that HIAL will be glad to engage directly with any interested member of the Scottish Parliament."
Both privately and in public HIAL has previously said that it is entirely constrained by ministerial guidelines when it comes to setting pay. Prospect has said both cannot be correct.
David Avery, Prospect negotiations officer, said: "This unedifying blame game between HIAL and Scottish ministers will do nothing to resolve the dispute and it is passengers in the Highlands and Islands who will suffer.
"For more than a year Prospect has been acting in good faith in an attempt to achieve a pay deal that will secure the long term future of air travel in the Highlands and Islands. Without a significantly improved deal, we will lose capacity to better-paying airports and planes will not be able to fly. These are lifeline services.
"Now it seems that neither HIAL, nor Scottish ministers, are prepared to take responsibility for sorting this out. How can we negotiate with a body that says it is not its responsibility? If it is the responsibility of ministers then why has the transport minister refused to meet with us.
"My message to those suffering disruption to their flights is clear — ministers and HIAL have the power to end this strike today and to end this disruption but are choosing not to.
"Worse, they are choosing to pass the buck and blame each other for the failure of negotiations. With no one stepping up to take responsibility, there is no end in sight for this action. Ministers need to step in now and end this blatant dereliction of their duty."