news
Alan heads north on sponsored drive for teenage cancer charity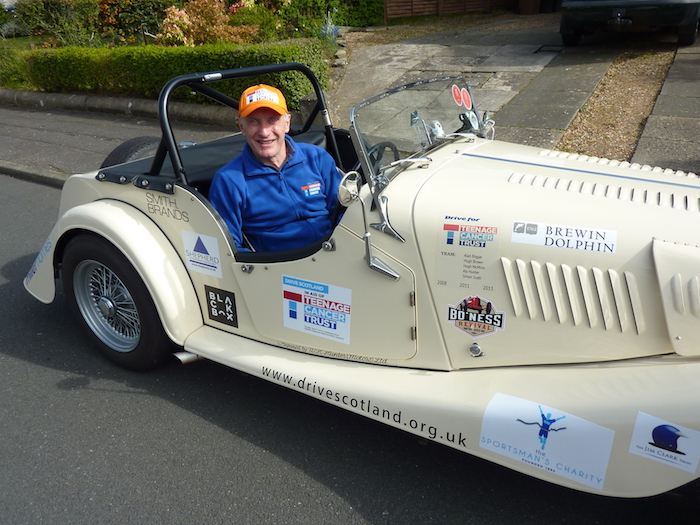 A classic car owner is set to visit Orkney next Tuesday as part of a charity trip around Scotland in his vehicle.
Alan Biggar will drive his 60-year-old Morgan Plus 4 sports car round the county to raise much-needed funds for Teenage Cancer Trust, with the trip including visits to Orkney and Shetland.
This charity, founded in 1990, focuses on the needs of teenagers and young adults with cancer by providing specialist units in NHS hospitals.
It is a particularly fitting time for Teenage Cancer Trust in Scotland with a unit due to open at the new Children's Hospital in Edinburgh during 2018 as well as extending the charity's Outreach Care programme.
In April 2013 Alan successfully completed what was meant to be his third and final motoring venture for Teenage Cancer Trust round the 6 Nations' rugby stadiums.
So why is there a fourth?
He explained: "Something has been bugging me! The total distance covered by the 2008, 2011 and 2013 Drives was 8,600 miles, people have been suggesting this figure should be 10,000 miles, a nice round figure, and I must say I have to agree with them. So this latest trip will take us well over the new mileage target, raise funds for Teenage Cancer Trust in Scotland and hopefully help raise the charity's profile further."
It is almost 10 years ago that Alan first heard of Teenage Cancer Trust and learnt about the important work the charity undertook.At that time there was already a presence in the west, but nothing in the east of Scotland.
Since then a temporary unit for younger teenagers (13 to 16 year olds) opened at The Royal Hospital for Sick Children in Edinburgh in 2009, while in 2013 the new Teenage and Young Adult Cancer unit (16 to 24 year olds) opened at The Western General Hospital.
In the west a new unit for younger teenagers at The Royal Hospital for Children replaced Yorkhill in 2015, while the Teenage Cancer Trust unit for 16 to 24 year olds at The Beatson West of Scotland Cancer Centre is being refurbished.
All of the above has been possible because of so many generous donations, the hard work of the charity's small team in Scotland and the numerous fundraisers, corporate, trusts and individuals, who have put in such a huge amount of effort.
The car, with the resgistration TYN 150 has been in Alan's ownership for more than 20 years, during this drive she will have her 60th birthday.
As before there will be no back up vehicle so the skills of the co-drivers may be required. Previous problems have included a blown cylinder head gasket, broken fan belt, faulty fuel pump, overheating and blown electrical fuses.
As before Alan is very fortunate in having experienced co-drivers with him. He will be in the Morgan all the way round Scotland, with four friends set to join him for a few days each. They are due in Orkney on Tuesday May 16. NorthLink Ferries have been very generous donating the ferry travel.
Alan says that he would like to thank all his sponsors and supporters, adding that he is looking forward to a fortnight of spectacular motoring, not to mention the views from the 12 ferry journeys on the itinerary.
Donations top the charity can be made online: www.justgiving.com/fundraising/DriveScotland4TCT